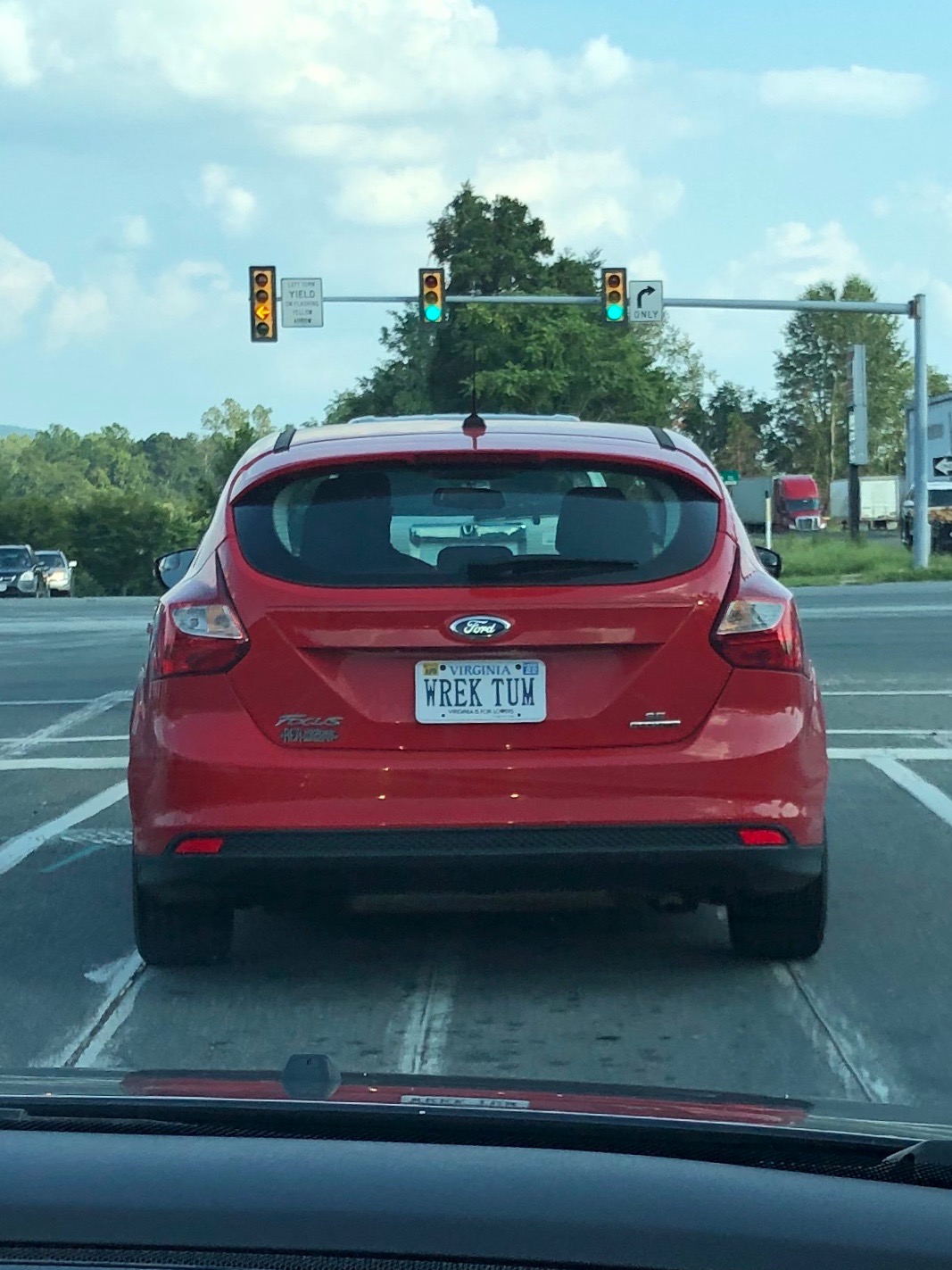 Back end (heh heh) of a car in C-ville last week. Had to share the picture!
Marshall and I met with my oncologist last week and the meeting actually went extremely well.
I've made some decisions:
I will have my surgery at UVA with the surgeon who did it before.
I will wait until next year to have my surgery (which means we'll be able to go on the trips we've already planned!)
I will plan to have only chemo after my surgery.
I will not have radiation.
First, I need to share with you the unbelievable and unexpected ease of these decisions. It was nothing short of miraculous to me, especially given how weighty they've felt for the past two weeks or so. I felt so light coming out of my oncologist's office it was almost funny. Hey, I'll take it – so much better than the alternative! Thank you for all your continued thoughts and prayers – these are what lift me. I am very grateful.
The decision about where to have the surgery came first. I talked to my doctor about the glow juice I could drink to make my cancer cells light up during surgery and it turns out my oncologist has a lot of experience with this glow juice from when he was at Dartmouth. Apparently, it's usually used for higher grade gliomas than mine because higher grade gliomas glow more than lower grade gliomas do. So, it would give the surgeon more information during the surgery, but minimally more. So I don't really need it if I don't want it.
Then the question becomes whether, if I don't really need it, I want to be the first patient my surgeon uses the glow juice on.
I asked my oncologist for another surgeon's name for a second opinion and he gave me the name of a surgeon in California. We discussed how there are no guarantees of success in surgery no matter who does it or where it's done. Not that it's unimportant to have a great surgeon and the best equipment – it is. But I already have both of those at UVA.
Other things are important, too, besides the surgeon – like having my family and friends with me before and after surgery and as I recover. And not pulling Hannah out of school and not dragging my parents cross country to stay in some hotel while I have my surgery. And not worrying about flying home after surgery, when chances of blood clots may be higher. And just being able to be home.
The surgeon who did my surgery last time did a great job. I have absolutely no complaints with how things turned out. If I don't want him to do the glow juice, he doesn't have to, and not much will be lost. And if I want him to do it, he will. I can figure that out later.
For now, I've realized that I feel completely comfortable having my surgery with him again at UVA. This is a huge, huge relief.
I will also be waiting to have my surgery until next year – probably early January. This is a total surprise because we were all set to give up on going to Puerto Vallarta for Christmas and were even considering not going to Hawaii for our 30th anniversary at the end of October.
I really questioned my oncologist about the timing of these trips and he felt sure that we could (and should) do both – that the cancer would not grow enough in that time frame to cause any problems with having surgery in January. In fact, he'd told us before that we could still adopt a "watch and wait" stance even now, although surgery feels like the better recommendation. I know he's the type of doctor who would not say this there was real risk in waiting.
I have to say, this was an unexpected joy to hear and an unanticipated balm to my heart. I had been trying to plan as many trips for our family as possible while I've been feeling well, knowing that the cancer was "supposed to" come back. Traveling is something our family discovered we loved to do together when I had the chance to teach on Semester at Sea in 2012 and 2014. When I heard the cancer was back I felt like we couldn't go on these trips and it made me quite sad. Thirty years is something to really celebrate. And so is the family that has grown from those 30 years. I really wanted to be able to take Hannah to Puerto Vallarta, too – for all three of us to be able to go somewhere special together. Now we can. And I am VERY excited!
Also, pushing off the surgery until next year takes some of that immanent pressure off. I am not having surgery in a couple of months – I'm having it next year. That just sounds better.
Plus, maybe pushing it off will allow my surgeon to get some experience under his belt with the glow juice.
The last big decision was what the course of treatment would be after surgery – radiation, chemo, or both.
Radiation + chemo is supposedly the "gold standard" of care because it supposedly gets you more time – maybe 5-7 years more, which is nothing to sniff at. But even so, doctors treat people with lower grade gliomas in a wide variety of ways. There is no real consensus on what to do.
My bottom line is that I am afraid of radiating my brain. It's just plain bad news. There are many possible side effects and once you do it, you can't undo it. The damage is done and continues happening forever after.
So, I've decided not to have radiation.
This decision was a huge relief, too. I get to choose. I get to decide. And this is what I decide. At least for now.
So, I'm choosing chemo. There a couple of different kinds to choose from, but we'll nail that down later.
It's so funny how my perspective has changed – today I am relieved to be getting chemo, whereas the thought of having chemo a few months ago felt like something that was just too too scary to even think about. I guess it's all about perspective. Chemo is a relief when compared to radiation.
But all that is NEXT YEAR! For now, I'm looking forward to planning our trip Hawaii!