Since my initial trip to the emergency room two weeks ago yesterday, I have been waking up and beginning my day at 4 or 5:00 in the morning.  This is SO not me.  I have always been a late sleeper – mornings have been an epic struggle ever since I was a teenager.  I am a natural night owl, and happily so.
And yet, many times in my life I've wished to be a morning person.  It just seems so psychologically and spiritually healthy to start out the day by taking time to become recollected, meditative, and mindful – instead of rushing out the door in my usual froth and frenzy without a moment to think.
So why the big change for me now?  I think it's a result of the medicines I'm on.  I wake up very early feeling kind of jittery and wired, with my brain ready to roll.  I feel really thirsty when I wake up, but not really all that tired, so – quite uncharacteristically – I'm ready to get up and start my day almost as soon as I open my eyes.
It's been awesome.  I love having the quiet time to care for myself without being in anyone else's line of sight.
A little background: I've been dealing with painful, muscle spasm-y issues for awhile (now it seems possible that they may somehow be related to my brain tumor – but who really knows), and for the last year I've been going to Pelvic Floor Physical Therapy.  Basically,  pelvic floor therapy is needed when your pelvic floor muscles are tight and need to be stretched and loosened.  I also have a little TENS/E-Stim unit that I can use at home that not only gets at those muscles, but also helps loosen up other muscles in my neck, arms, legs and hips.  It has been very helpful.
Every morning, I wake up tight and it's hard for me to move.  So the first thing I do is don my little E-Stim machine and start doing stretching exercises on the bed in the back room.  This goes for anywhere from 20-60 minutes, depending on how quickly my muscles want to release.
Then I do a sinus rinse for my nose – it is very, very attractive.  Devastatingly so, in fact.  But it has to be done because otherwise I get sinus infections at the drop of a hat.
Then I shower, blow-dry, and curl my hair.  After dealing with totally straight hair and wishing it to be curly all my life, I have finally found something that takes less than five minutes to do.  And I like it: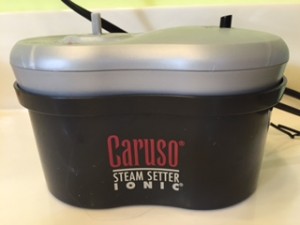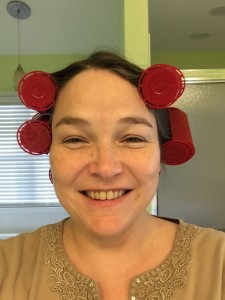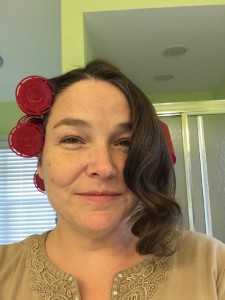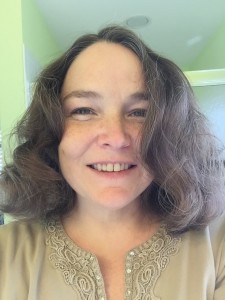 Then I go into our prayer room, which is a small spare bedroom outfitted with a little cream colored couch, the cedar chest that was my grandmother's and is now filled with family pictures that I've never gotten into picture albums, and a tall bookcase full of books on spirituality, meditation, and psychology.  Hannah's first communion veil, which my dear friend, Lori, made drapes down from the top of the bookcase, along with a colorful folded banner that Hannah made in preparation for her first reconciliation.  Beside the couch sits an end table filled with happy family pictures.  In front of it is a kneeler, which Marshall sometimes uses, and then another, squatter bookshelf where pictures of people who have been important in my life smile from.  Most of the people in these pictures are dead.  Many of their funeral cards are scattered throughout the shelves. (What else can you do with funeral cards? It might be weird to keep them but it also seems weird to throw them out.) They include particularly awesome pictures of Monsignor Chester Michael, the man who first taught me about spiritual direction, and Sister Laurence Bucher, my middle school principal.  Throughout the pictures wind textiles that give the alter a bit of pattern and warmth of color, some stones with words like "grace" and "faith" on them, and a drawing of homeless people at a table.  On the wall hangs a picture of a collie dog barking after having found a lamb in the snow. It is a picture that belonged to Shirley Pike, a dear family friend who was kind of like a grandmother to me, who died about 15 months after Hannah was born.
Each morning I turn on the same Mary-BabyJesus nightlight that was in my nursery when I was a baby, and lay down on the floor with my knees propped up on the cedar chest, my arms resting on the floor, open in a downward V at my sides.  This is my time for imagery and contemplative prayer.  It is the food I need each morning to calm my racing brain and learn how to just "be" for another day.
I start with the imagery I've already described in another post.  I talk to my tumor about wholeness and healing.  This morning, though, I start to realize more about what I am truly asking of it.  While I am asking for unity and promising to go through what we have to go through together, I realize that in doing so I am asking for the tumor to consent to die.  It dawns on me that this is a big request.
A fundamental truth dawns on me: that growth, that transformation, requires a death.  In order to become something new, something old must pass away.  I am asking my brain tumor to pass away.  This is real sacrifice I am asking.  Yes, it is for the good of the whole; yes, it is the only way that the Fran universe can work together for the life and good of all my cells as a unit.  But I am nonetheless asking this tumor for a real and ultimate sacrifice.
It strikes me as fundamentally unfair that I ask for this kind of sacrifice by my tumor, without being fully willing myself to participate in some way.  We are in this together, after all.  So this morning I pledged to my tumor that I would learn how to be totally, utterly accepting of my own transformation and change on this journey – no matter what that may entail.
This is a fairly terrifying proposition.
My uneven-but-ever-present practice of contemplative prayer/meditation for the last 16 years has prepared me to a certain extent for the possibility of such openness.  But only for the possibility.  I see it, but I am not there yet.
After my imagery time with my tumor, I take 20 minutes to do centering prayer.  This consists of the open posture on the floor which I described above.  I use the mantra "I Am" to try to keep me in the moment and out of my thinking head.  Then I "consent to God's presence and action within me."  This feels safe.  I believe in a God who loves me – and I have become trustful enough of that love to consent without reserve to its presence and action inside of me.
But Monsignor Chester Michael's picture is right next to me and in my mind's eye I can see him smiling and hear him calling to me.  I remember that his prayer of consent used to be "Anything, Lord.  Everything."  This prayer goes beyond mere consent and acceptance.  This prayer could truly mean anything.  It is a very, very brave prayer.  And I can't quite say it.  Yet.
But I think I want to.  I think I need to say it in order to be healed, to be whole, and to truly be transformed into whatever I am becoming as a result of this unexpected journey.
There is a step I need to take to get there that is still very ill-defined in my mind; a step that will move me from merely consenting to Love to being a willing participant and servant and conduit and real, unitive part of that Love – to being Love itself – even if it involves great sacrifice.
Don't get me wrong here.  I am not talking about dying in surgery.  That's not really my fear – I don't believe that is going to happen.  I'm talking about a stance towards life, an openness to anything happening, that I've never contemplated, at least at this level, before.
I may not get there before my surgery, but I may.  I am not putting pressure on myself.  I'm on the journey – I've just got to let it lead me  And each day I will take time to be as open and accepting as possible.  One step at a time.