The last 24 hours have been WONDERFUL!
We got to Cassandra's farm at 11:00pm instead of midnight lar night because we'd changed time zones without realizing it! We were immediately greeted by Anna, Chris, and Denise, who led us to a flat, grassy field behind the barn, which was lit up by a string of cheery, round, white bulbs. Heaven, after being on the road for 12 hours!
They gave us six lovely duck eggs I'd purchased through the Hipcamp website (actually, I'd only asked for three, the other three were pure gift, which turned out to be the theme of our time here). The eggs were accompanied by beautiful blue hydrangeas in a vase! Balm to my heart.
Our hosts left us to set up the van for sleep for the very first time. We had no idea if our convertible dinette/bed cushions or Hannah's "Cabbunk cot" which hangs over the driver's and passenger's seats were going to be comfy or not. (Spoiler: they were!)
As Hannah changed into her pajamas, Marshall and I went outside and climbed up onto the roof to look at the almost full moon. When I was designing the van, I really wanted to be able to do that, to get up off the ground, to gaze at the stars. I even bought walkable solar panels so we could. It has been one of my dreams for this trip.
No stars last night, but a gorgeous moon greeted us on the right. And on the left was a grove of trees where hundreds of fireflies blinked us welcome. It was sheer magic, and sheer adventure to climb up so high.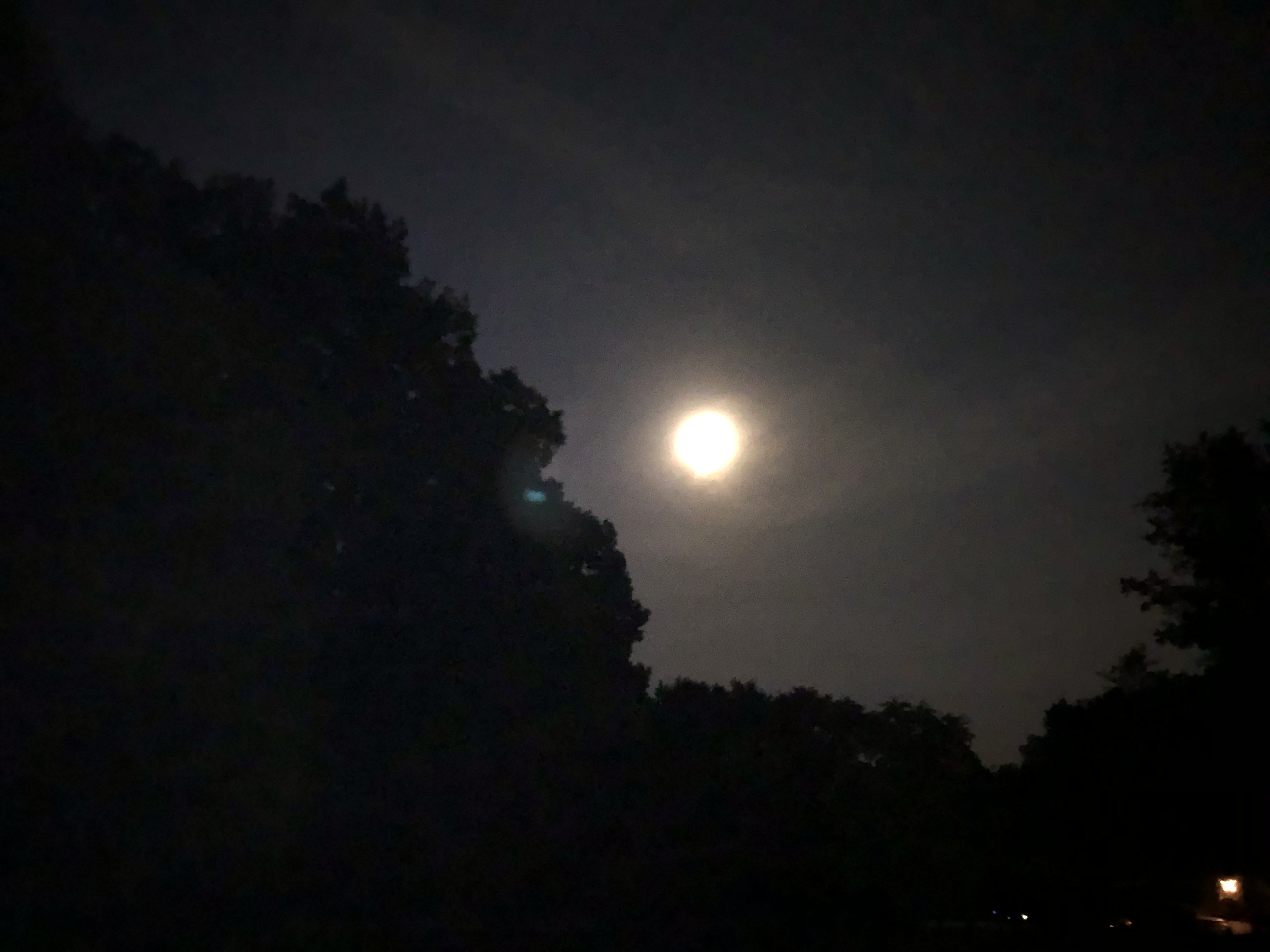 Our bed was so comfortable – the latex mattress cut up into cushions is just as good or better than the mattress we sleep on at home. We turned on our two fans, closed the curtains and eased into restful sleep. This morning, we all felt great!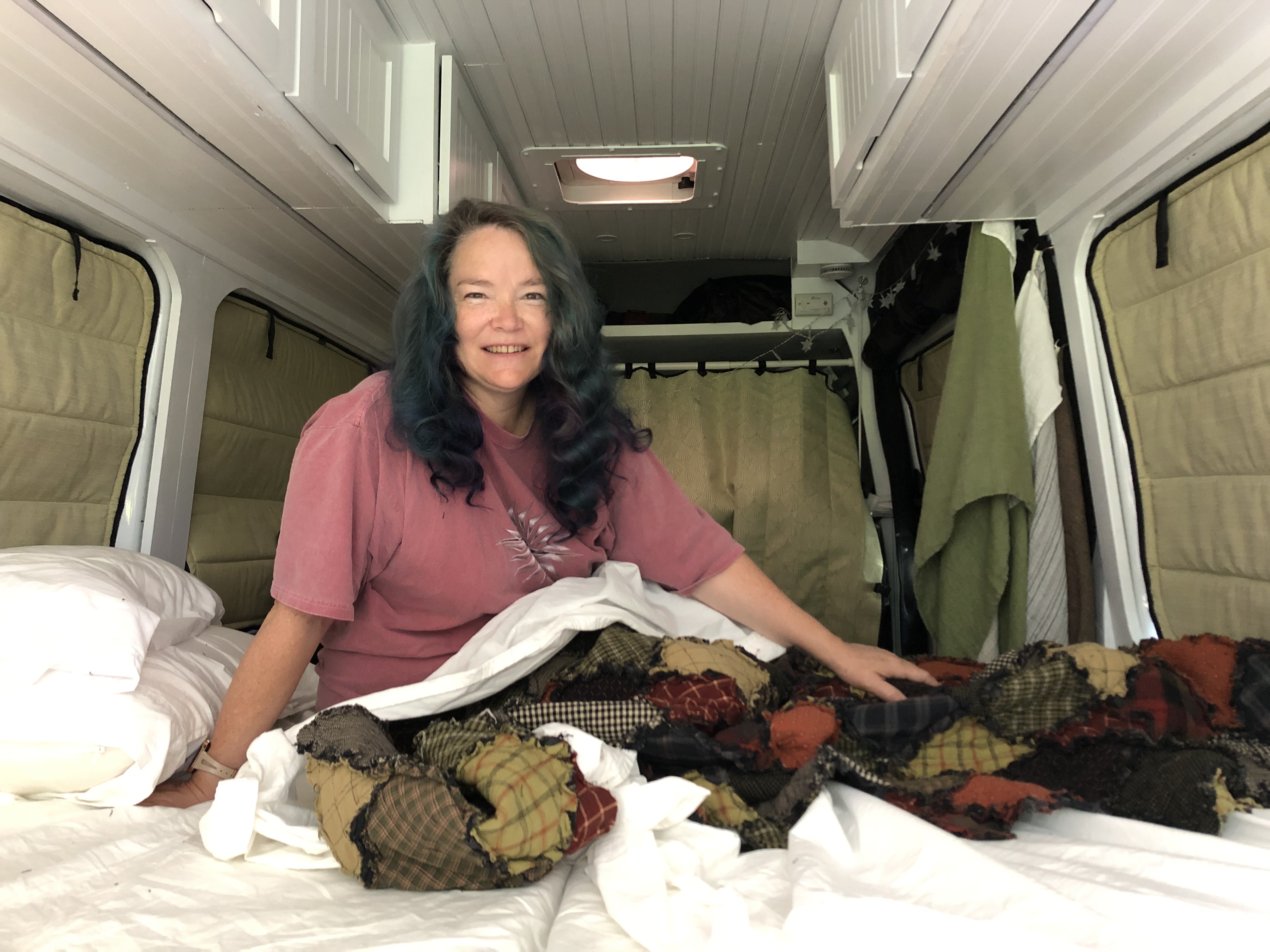 Marshall and I got up and dressed this morning, deconstructed our bed, and then got Hannah up. We sat out on our picnic blanket while she got dressed, then Hannah went to look at the goats, ducks, chickens, and alpacas while Marshall scrambled our duck eggs with chèvre and bacon…talk about mmmm! Morning picnic!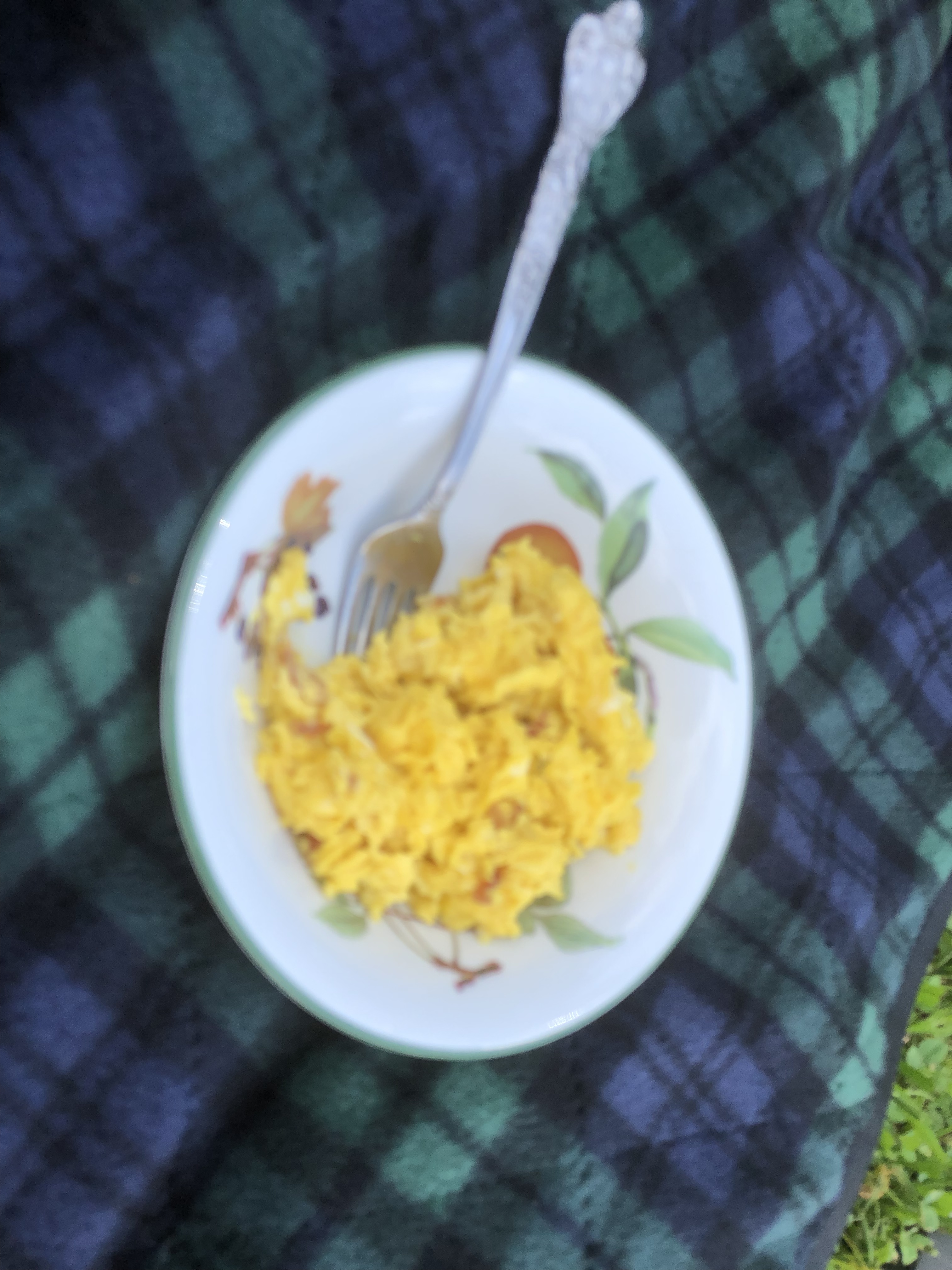 After breakfast, Anna introduced us to the whole barnyard. Hannah and I even got to learn how to milk the goats!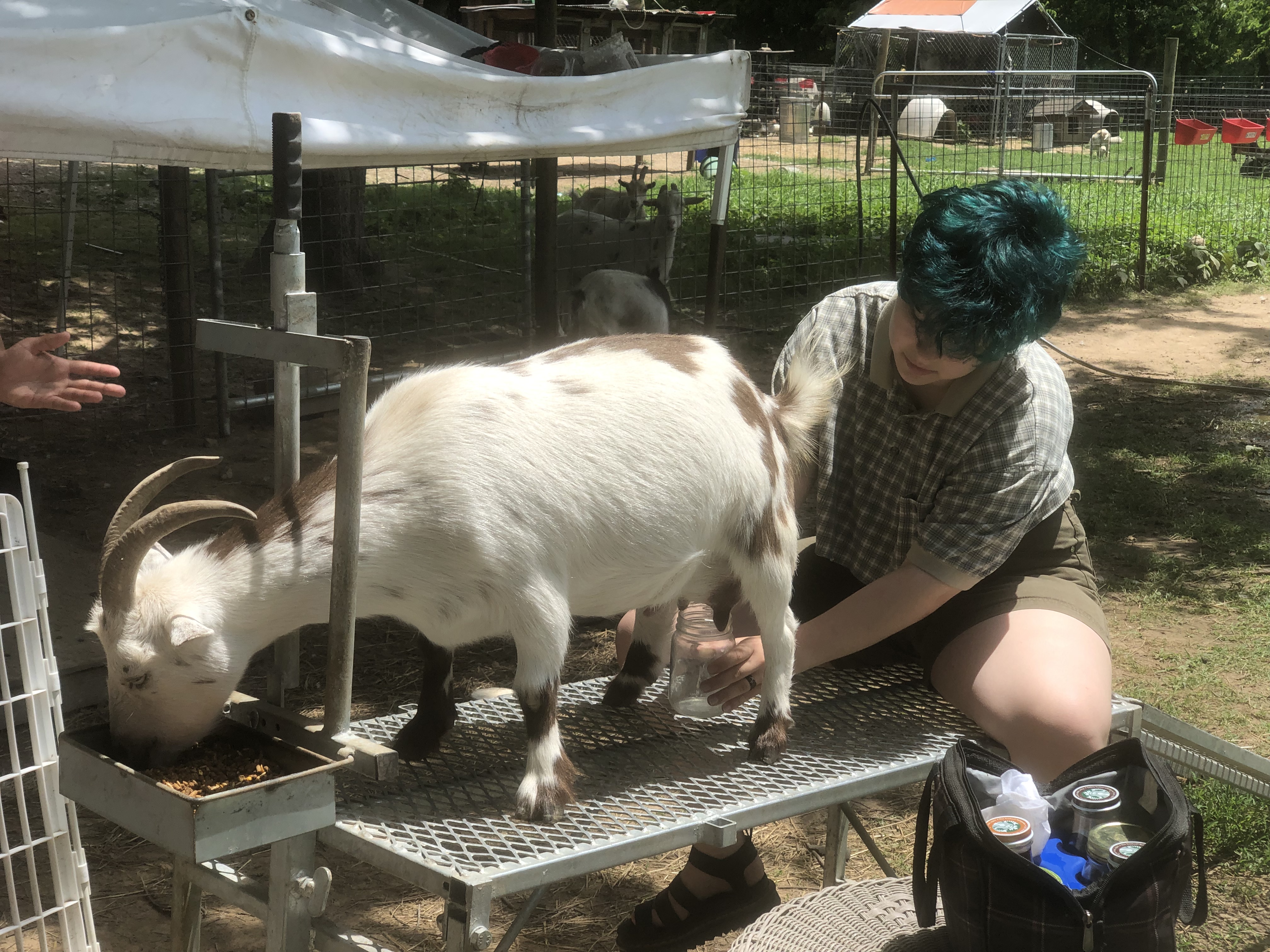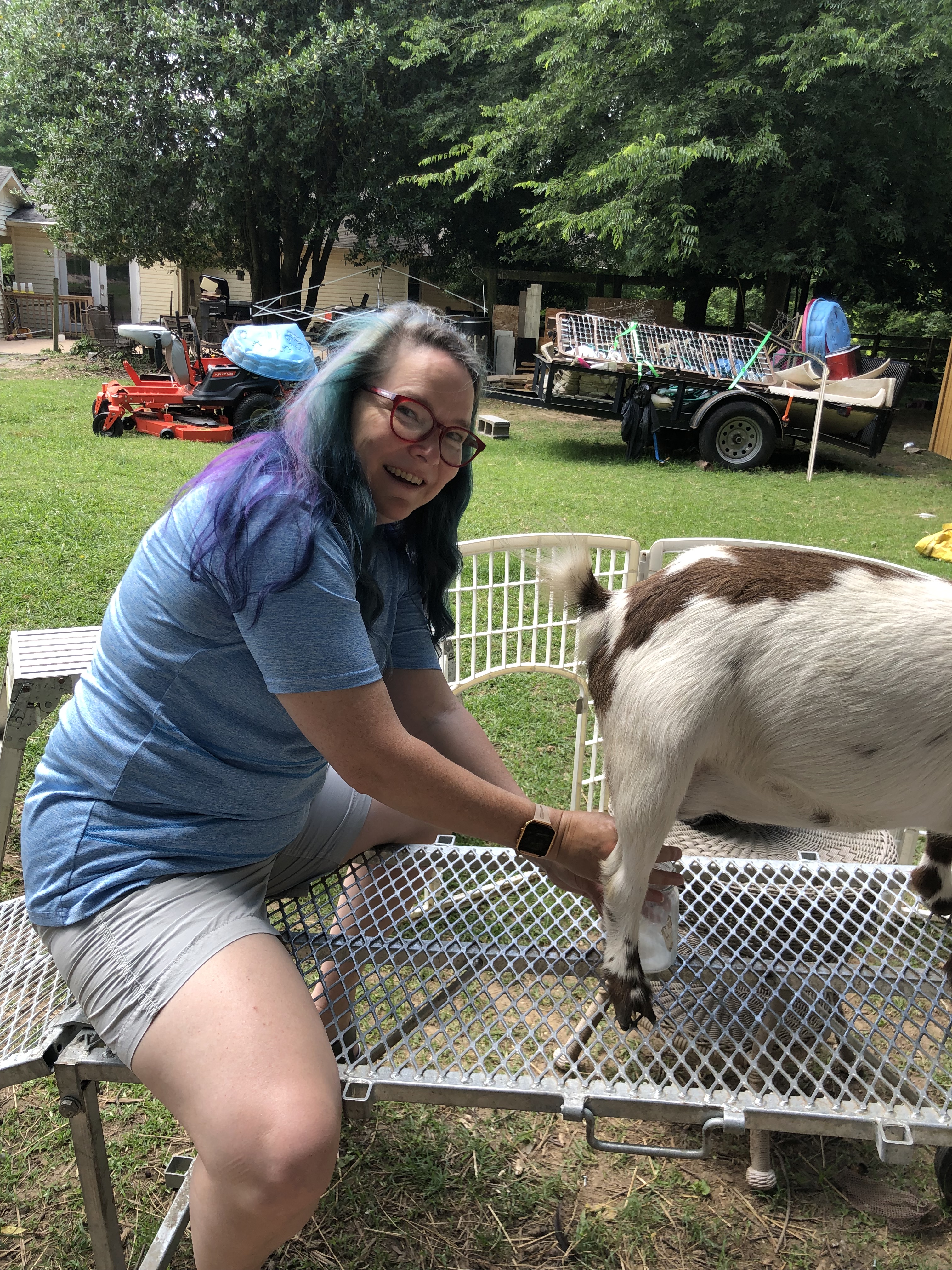 It was hard for me to leave the farm this morning, but we had tickets for a tour of the Grand Ole Opry, so we needed to make tracks. Our wonderful, kind hosts surprised us with parting gifts of fresh chèvre cheese and goats milk soap from the farm! What joy and gratitude I felt. A kind respite from life's storms. Exactly what my heart needs right now.
Kindness matters so, so much. Since my diagnosis, I've experienced so many kindnesses in my life, some big and some seemingly smaller, but all are nurturing – healing to me in a very tangible way – and help me carry the weight of my illness day in and day out.
Today, I've realized more about my own desperate need for kindness. Giving kindness is akin to giving strength to someone else; it is building a bridge to the heart of another, a bridge that helps bear the other's weight.