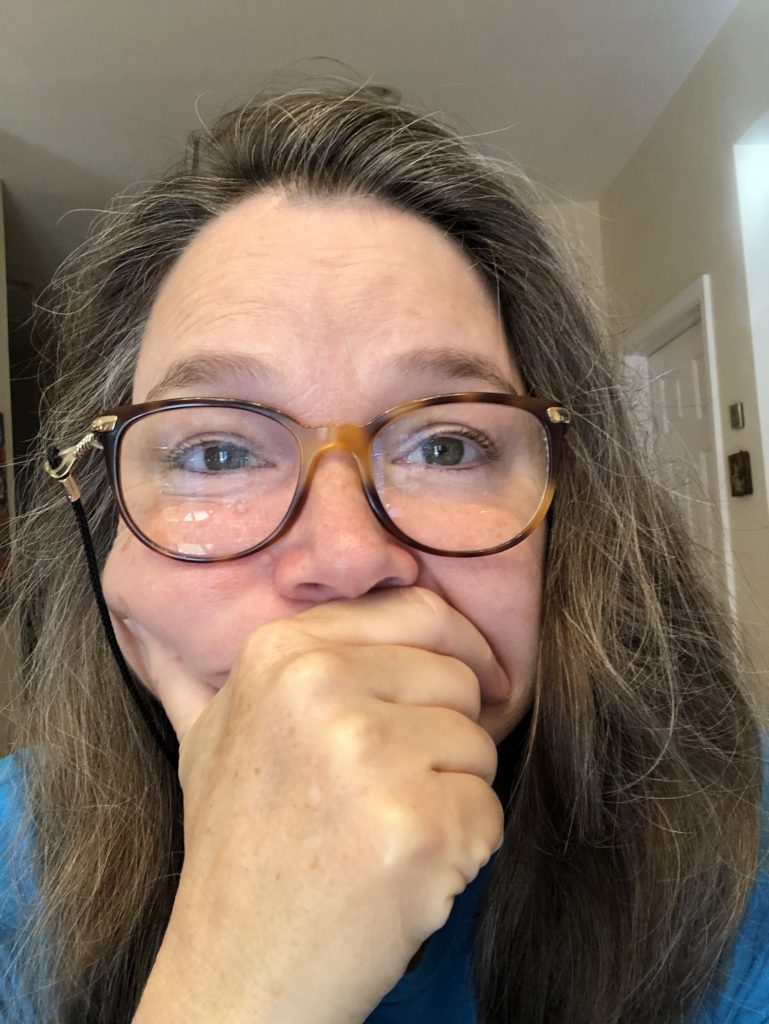 Let me preface this post with sharing that I developed a bad cold yesterday and feel pretty stinky as I write this. Ain't that just how it goes sometimes?
Well, my novocaine trick didn't work out as planned at the surgeon's. Our appointment was for 1:30 and we didn't get in to see him until about 4:00. My novocaine had long worn off, and my jaw was starting to really ache by the time the meeting actually happened. Not the best of beginnings.
Also, we were supposed to meet with two doctors: my surgeon and my oncologist. But my oncologist had a family emergency, so we wound up only meeting with the surgeon. Again, not ideal, but I choose to look at it as an advantage: I am going to have a lot of questions for my oncologist, so having the time to get those questions well formed and thought out will be a plus.
The big question before our appointment was: could the surgeon operate, or had the tumor already infiltrated my language center, making surgery impossible? And, if surgery was possible, would it likely cause cognitive deficits (like not being able to find words, not being able to speak, not being able to read) after surgery?
Prior to the meeting, Marshall and I had come to the reluctant conclusion that if I could have surgery, it would likely be in my best interests to do so. (I say "reluctant" because who ever wants to have brain surgery a second time?) Surgery would give the best chance of clearing away the most cancer cells possible, which is advantageous. (Although, I have to admit, the possibility of having chemo prior to a second surgery is something that intrigues me – trying to shrink the tumor and keep it at bay for more time before "going in" again. I will talk with my oncologist about this possibility. Watch this space.)
Having to wait for two-and-a-half hours before seeing the surgeon was not relaxing, shall we say. Sometimes I get in a mood where I am doing okay emotionally, but I just don't want to talk – at all, about anything – and that is what happened as we waited. Marshall is good with me when I get this way. He was there when I wanted to talk, but he also gave me my space. Thirty years of marriage brings these kinds of gifts.
We ran into an old co-worker of Marshall's in the waiting room and I just didn't feel like engaging. So I didn't. At all. I wish I'd felt like being social, but small talk seemed so . . . what? Unnecessary? Superfluous? Pretend? A sapping of otherwise-needed mental energy? Probably that last one, most of all. It was like I just needed to hibernate and totally go inside myself, directing my own mind and thoughts, rather than having them directed for me by conversation with someone else. So, I allowed myself to do what seemed best for my own well-being: I stayed quiet. (Yes, me, quiet – no comments from the peanut gallery!) Marshall handily took up the slack.
When we finally got called back, we first met with the Physician's Assistant. Looking at the MRI results, I actually felt quite good about everything – like maybe I could even push back the surgery a bit. The tumor seemed further away from my language center than I'd remembered it being. That was pretty encouraging.
The surgeon confirmed that my tumor appeared not to have grown towards my language areas, but away from them. This was great news! He felt that we had a potentially small window of time to do another surgery, due to the possibility of it beginning to grow in the "wrong" direction. He had no way of knowing when this might happen, but he was pushing for an earlier surgery – like, this month – rather than waiting. When we'd met with my oncologist last week, he felt we had some time before we'd need to have surgery – enough time to go on our 30th anniversary trip to Hawaii at the beginning of November and then to Puerto Vallarta for Christmas.
So, it seems there is a little conflict of opinion between my oncologist and  surgeon on the necessary timing of a surgery.
If I do decide to have surgery, the surgeon felt like there would be no additional risks this time as compared to last time, which was more good news. In fact, he said that he could do the surgery and in six weeks I could be in Puerto Vallarta.
My answer to this is: no. I will not have surgery and then go to Mexico six weeks later. I did something like this last time – two months after my craniotomy, our whole family (my parents included) went on a previously scheduled Disney Cruise to the Caribbean.  I did pretty well, but I was very tired and, looking back, it turned out to be a pretty risky thing to do. We didn't know at the time that I was dealing with secondary adrenal insufficiency due to me being pumped up on all kinds of steroids for three weeks before my surgery. It wore out my adrenal gland and I couldn't get completely off of the steroids for nine solid months after surgery and I was immuno-suppressed and very often sick during that time as a result. I don't want a repeat of that this time.
So, I asked the surgeon if I could not be put on so many steroids this time. He said he could limit it to five days, after surgery. Always the negotiator, I asked if he would be willing to bargain a bit and try, say, turmeric supplements instead. I'll let you guess what response he gave, but it starts with N and ends with OWAY.
All and all, surgery appears to be a good option right now, especially since the surgeon doesn't think it would take away any more cognitive abilities than it did last time. That is a real relief. It could have been a lot worse news and this is something to be thankful for.
The harder news was that a third surgery will likely NOT be an option in the future, if the tumor grows back again. This is because it is in the left frontal lobe of my brain, where my language center is. If the tumor grows into my language center, they can't remove that without changing me as a person pretty drastically – at least that is my understanding.
So, I guess the good spin is that if I choose to have surgery, it will very likely be the last brain surgery I will ever have to have.  (Somehow, this doesn't sound so encouraging as I write it.)
If I go with the surgery option, the surgeon told us it will be important to also nail down a concrete plan of what treatments will be done afterwards. The most usual recommendation (because it's the game plan that has, so far, given the greatest likelihood of living longer for people with my kind of tumor) would be to follow the surgery immediately with radiation and chemotherapy.
Here's what I think about that:
I can get myself geared up for another surgery. I've done it before. I can do it again, as much as I would really prefer not to. I can even get myself geared up for chemotherapy afterwards, although the idea of systemically poisoning my body is not at the top of my list of favorite activities.
It's the idea of radiation that's the show-stopper for me. The reason is this: radiation kills the cancer (although it can/will still grow back at some point), but radiation seems to be the "gift that keeps on giving." Years on down the road, the radiation I receive this year would continue killing off brain cells 5, 10, 20 years down the line (assuming I am still around then – which in and of itself is the reason for and hope that comes with radiation).
I just don't want to have radiation. That is the bottom line. I don't want to give up my brain cells.  But, perhaps the way to look at it is that I can choose between giving my brain cells up to cancer or giving them up to radiation. That makes the choice a little clearer. And maybe a little easier.
Nonetheless, it is a puzzlement, as the King would say.
Marshall thinks the surgery, radiation, chemo option is probably going to be our best bet.
It may well be. If I've learned anything through all this, I've learned that I can do pretty much anything. I suppose that is some kind of super power I can tuck into my back pocket. I think I would rather be able to fly, honestly.
I still want to look at and talk about other possible options with my oncologist. There are lots of trials out there I'm going to start reading about. For example, did you know that there is actually a whipworm medicine that's being studied in one brain tumor trial right now that might work better than, or in conjunction with, some commonly used chemo medicines? While a whipworm medicine that cures brain cancer seems a little far-fetched, I am down for learning more about it.
I say: bring on the far-fetched!
Something a little far-fetched could potentially help me push off radiation for a little longer. My thought is that if I can buy myself a little extra time, one of the trials could hit pay dirt and produce a cure, or perhaps a better option for treatment.
I have to admit: the fact that I am looking at trials is kind of scary. How far will I be willing to experiment or deviate from the current thinking about treatment?  I guess it depends on what I find out.
In any case, I think it will be important for me to take first things first: will I have surgery? The answer is very likely going to be "yes." I am grateful that is an option for me.
When will I have it? That remains to be seen. I will talk more to my oncologist about it, as well as other options for further treatment. Looks like I'll also be meeting with a radiation oncologist. And I will likely talk to a second surgeon as well – second opinions never hurt.
Am also considering buying some whipworm medicine:)