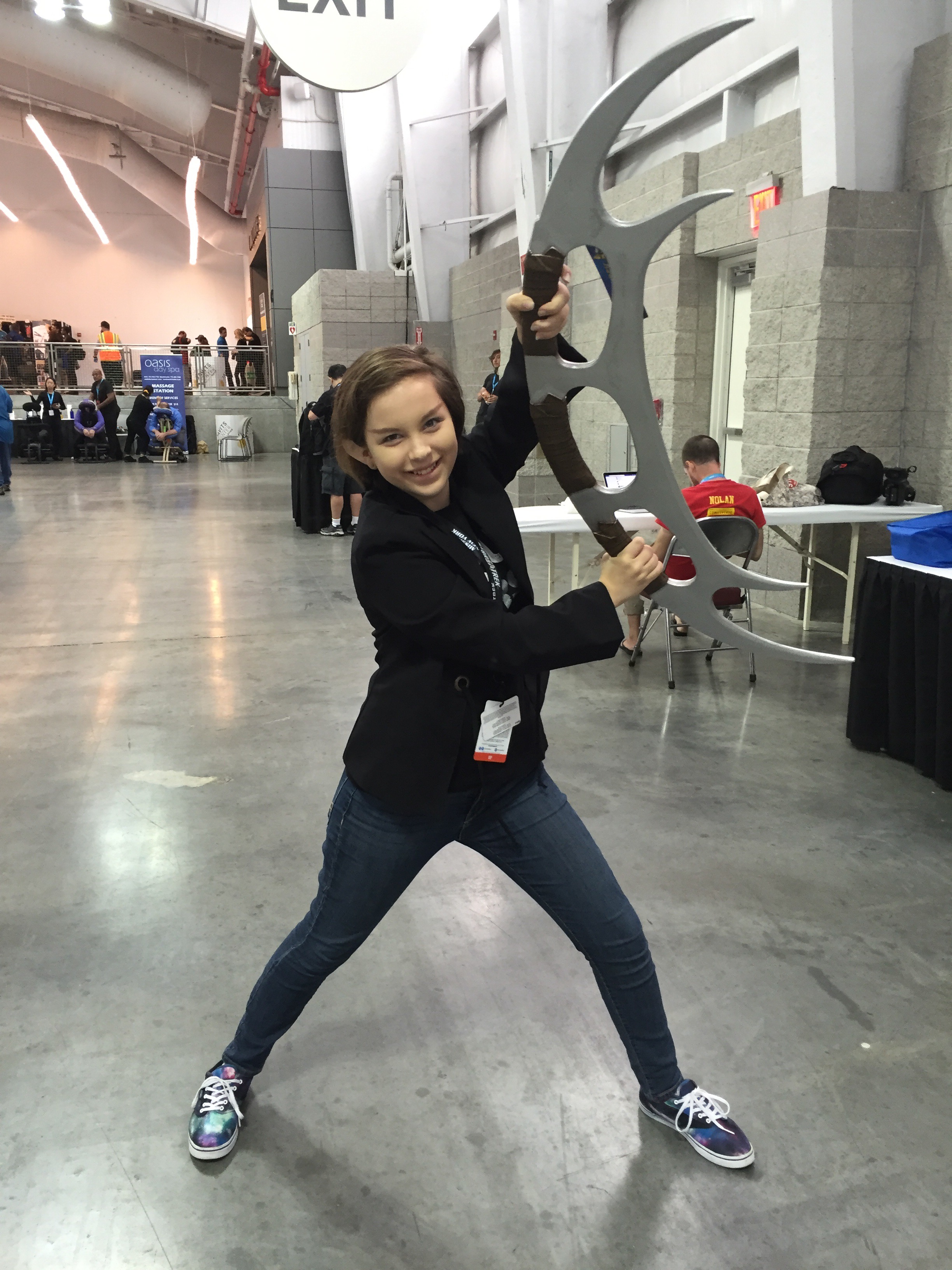 That thingamabob in Hannah's hands is called a bat'leth. It is a Klingon fighting weapon. Who knew? Our daughter, that's who! In fact, Hannah was interviewed on the SciFi Channel at the convention: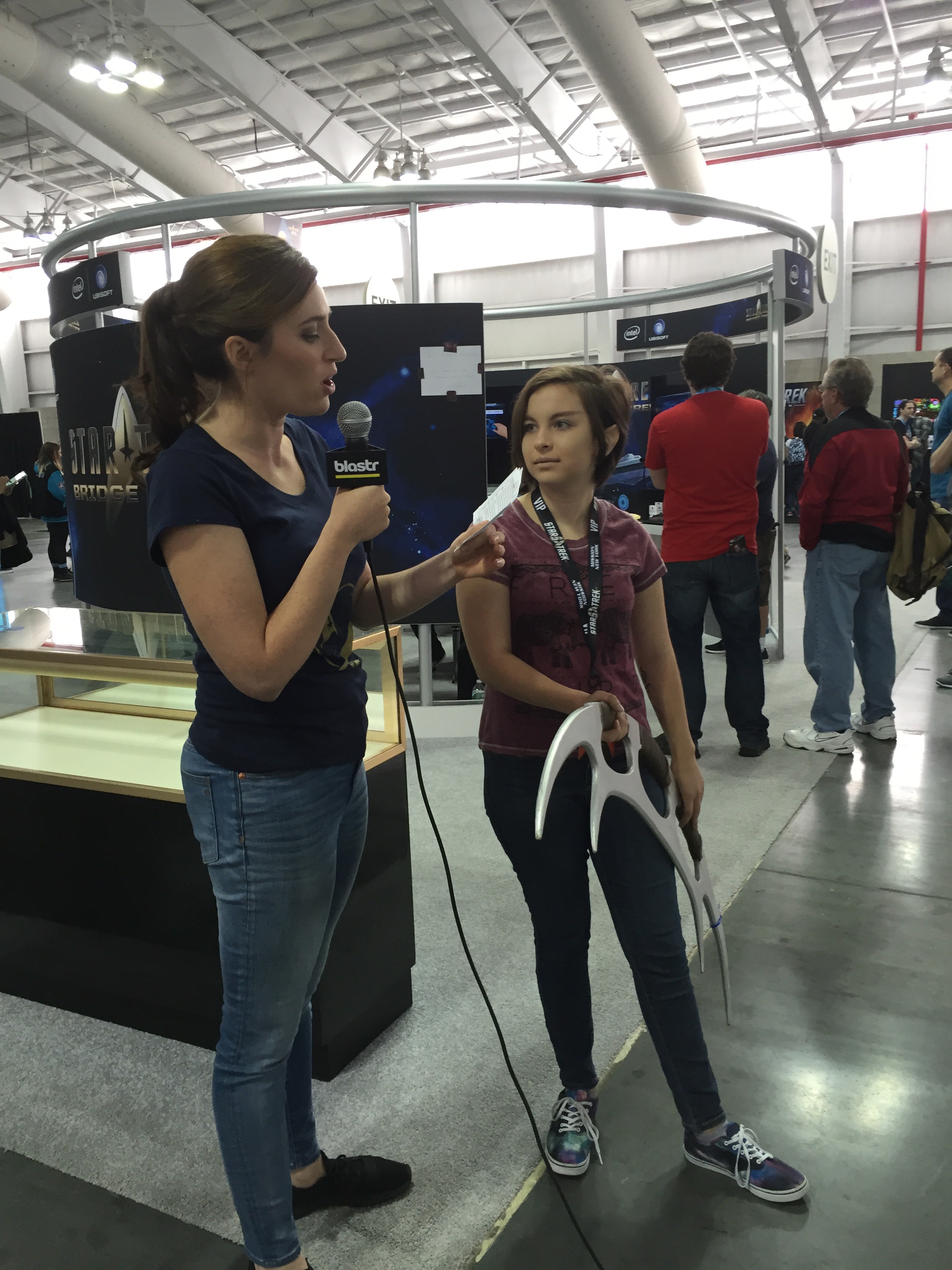 During the interview, they asked Hannah Star Trek trivia questions – and no easy ones as far as I was concerned. She got all but one correct and won a piece of Pez for her efforts! Could a parent ever be more happy, proud, and profoundly tickled? I don't think so!
Hannah loved every moment of her 13th birthday present, and it is a trip we will always and forever remember! Oh my goodness, how she smiled and smiled and laughed with wonderful, excited, giddy, 13 year-old happiness. We came home closer as a family, and I am fairly certain Hannah grew an inch during our trip.
Marshall and I had a great time, too. I have to admit I do enjoy watching the old Star Treks as a family. Watching on Netflix allows us to avoid commercials too, which, frankly, sometimes really bother me these days because of their violence. With me having low cortisol (the fight or flight hormone) due to the steroids I've been on since my surgery, I just can't deal with violent commercials that show murders or bloody fights – I come away feeling like a victim of assault and battery. The older Star Trek series have some violence, but it is generally much less hard core and much less graphic than current TV trends.
I have to admit, I was tired in NYC. I went to the doctor right before we left on our trip and sure enough, they found I had another infection. So they put me on an antibiotic. I'd hoped that would do the trick, but it didn't because when I got back home on Monday, I got an automated email that told me I had a second kind of bacteria – one that needed a different type of antibiotic. So, while I held my own on the trip for the most part, I did kind of go downhill as the trip went on.
The first day, after our 7 hour but very wonderful and relaxing train ride to NYC, I had a super-secret meeting that I had to go to at an undisclosed location in Gotham. (More on this in a minute.) I thought we'd be able to check into the hotel before said meeting, but because our train was running late, we had to split up: Marshall and Hannah went to the hotel to check in, and I took the subway on my own to my super-secret meeting.
I have to say, this country girl was more than a little worried about being on her own in the big city. I'd used the subway in NYC before, but I'd never been to the particular place I was going. I was tired after our trip and definitely had brain fog due to the infection I had. I was also dehydrated and thirsty like crazy even though I'd been downing water all day like a fish. And the subway was HOT. I gained a new understanding for and appreciation of how someone might pass out in that kind of heat. And although I never felt like I was actually going to pass out, it was still a little scary. The city seemed so big. And I was so small. But we both felt alive, and I loved the feeling!
So, my meeting! I can't tell you about it – yet. But it was good. And I will tell you all about it as soon as I can😎 I felt a little like a cross between an insecure middle grade school girl, a stand up comic and a somewhat forgetful post-op craniotomy patient. But it was fun, and I made it back to our hotel on my own, feeling like if I could make it there I'd make it anywhere!
The next three days I became progressively more tired, but still managed to walk at least five miles a day in the gigantic Javitz Center. A huge feat for me! The first night I went back to the hotel at 5:00 via taxi because I was exhausted, while Hannah and Marshall stayed to watchThe Wrath of Kahn. But I'd made it through the whole day and I have to say I was pretty proud of myself.
The next two days, I hung with the big dawgs all day, but by the day we left for home our taxi driver even noticed and commented on how tired I looked. And I was tired. But I had also done it – I'd made it to the Big Apple and I'd had a super-secret meeting and had gone to the Star Trek convention and had done all I'd hoped to do with my family. And even though I am only now recovering my strength, it was more than worth it. Such great memories. That will last a lifetime!