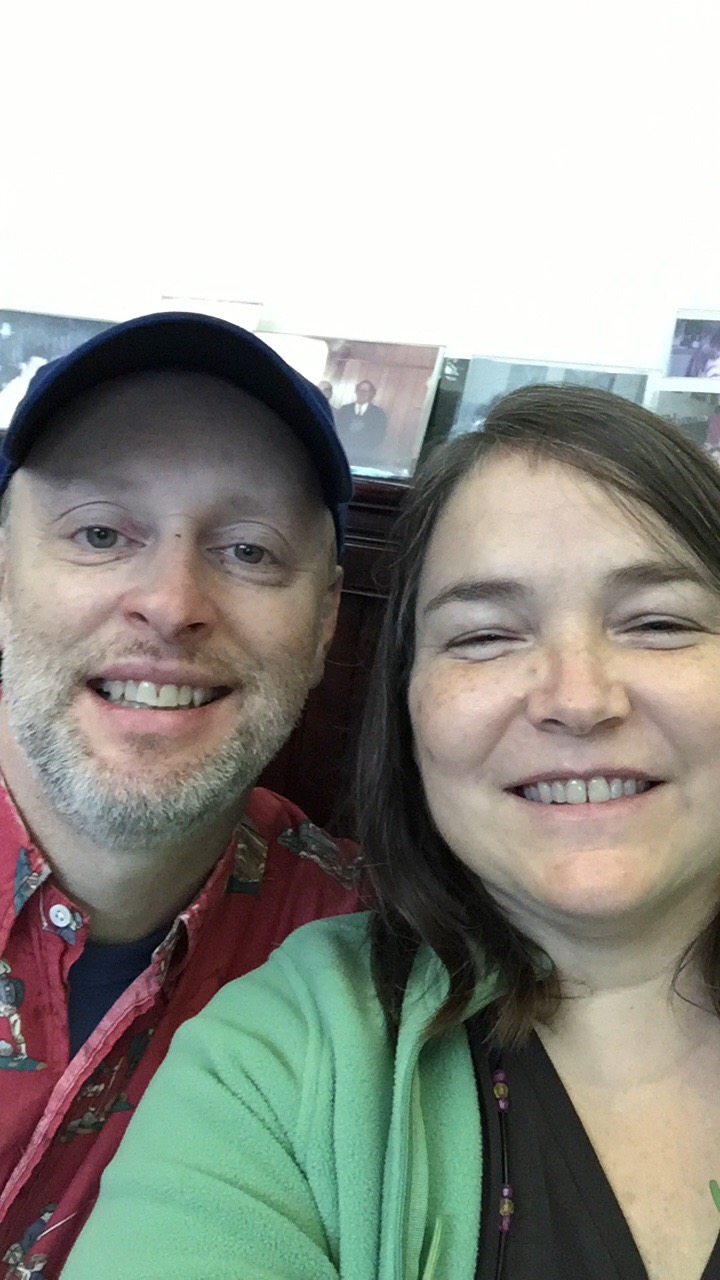 It has taken me awhile to mentally and emotionally process the results of last week's 3-month follow up Oncology visit and MRI.  I don't know what I was expecting – clear answers, perhaps?  But I'm getting the feeling I'm not in Kansas anymore, Toto.  Clear answers seem few and far between on this unexpected journey of mine.
The Bottom Line:  My MRI Results.
My MRI results on Wednesday were not bad, but they were not definitive.  (The more I read this sentence, the more amusing it becomes.  When is anything definitive?  Why did I once think anything was?)
The MRI showed that there is a hole in my head where the tumor was taken out. (Yeah, Mr./Ms. Funnypants: you already knew I had a hole in my head, pre-dating my surgery – very funny!)  Anyway – no bleeds, no weird looking aliens inside.  Everything looks like it is healing up pretty well.  This is good!
The REALLY good news is that my brain tissue is no longer being cramped  and squashed by the tumor – everything has pretty much moved back into place.  My physical therapist believes this will allow my body to work better, and will help the chronically tight muscles on the right side of my body to finally start to loosen.  I've already seen signs of this happening in the last few weeks.  So this is very good, practical stuff.
The "gray" news is that the MRI showed a white border around where the tumor was taken out.  This could be either
1) scar tissue from the surgery, or
2) brain tumor cells growing back.
The doctor doesn't know.  So he's going to use last week's MRI as the baseline for comparison future MRIs.  I was expecting the MRI done 3 months ago to be the baseline, so it's taken me a few days to come to terms with not having a more "black and white" answer.  But I have to say, my own personal feeling is that the white border is scar tissue, not tumor regrowth.  It's just what my gut tells me.  So I'm going with it.
And no, I'm not being Pollyanna. It's really what I feel!
I Also Talked To My Oncologist About My Recent Faint Spells and Tremors that Sent me to the Emergency Room on May 5th.
These spells have been very troubling to me, primarily because I feel absolutely, positively awful when they are happening – faint and shaky – sometimes to the point of near collapse.  And then I continue to feel bad afterwards,  having to "sleep it off" for several hours.  Lots of weakness to boot.  Total yuck.
The ER doctors didn't think what I was experiencing were seizures. (Seizures are caused by bad electrical stuff going off in your brain, as opposed to low blood sugar, heart conditions, or electrolyte imbalances. Officially diagnosing it as a "seizure" makes a person not be able to drive for 6 months after it happened, so I am actually grateful the doctors didn't call them seizures.)  Instead, they diagnosed me with "weakness" and a urinary tract infection.  Then they sent me home on antibiotics and with an increased dose of steroids.  I finally started to feel a little better about four days after I went on the antibiotics.
I talked to my oncologist about these faint spells last week at our meeting.  He didn't know whether they were seizures or not.  He wants to send me to the hospital to get an EEG brainwave test, and then send me to an epilepsy specialist to make a determination.
That initially sounded fine to me, until the nurse told me he was ordering a sleep-deprived EEG – meaning I would have to stay awake all night long before I get the EEG.  This is to try to induce a seizure.
There's one big problem with this plan:  staying up all night would be virtually impossible for me right now.  Until very recently, I have been excruciatingly tired and weak.  Until the antibiotic they prescribed for my UTI finally kicked in, I had to take long naps every afternoon because I was exhausted after just lying on the couch all the morning.  Kind of pathetic-sounding, but totally true.
There is no way in the world I could stay up all night without sleeping right now.  To do so might actually make me sicker.  Like, a LOT sicker.
So here's my opinion: I'm not so sure the sleep-deprived EEG sounds like such a good idea…at least until we are able to get my UTI infection under control.
I Am Learning to Trust My Own Opinions in This Gray Medical World.
I'll tell you why.  When I was diagnosed with the urinary tract infection at the ER on May 5th, I was surprised as all get out because I hadn't really had any symptoms of a UTI.  No fever, burning, etc.  It was weird.
I wondered why I hadn't had any symptoms, so I looked it up (yes, online – don't tell my doctors!).  Turns out, taking steroids can mask a fever as well as symptoms of an infection.  At the ER, my oral temperature was 97, but my rectal (yikes!) temperature was 99+.  So I think it is at least possible that the steroids I am on had been masking the symptoms of this UTI.
So then I wondered just how long I'd had this urinary tract infection.  I remembered I'd had another urinalysis done at UVA on February 9th, just two days prior to my craniotomy.  So I looked back in my electronic records – lo and behold it showed that I had a UTI way back then, BEFORE my surgery ever happened.  But none of my doctors ever mentioned it – I guess they had bigger fish to fry with my surgery impending at that point.  Still, I've had this UTI for three months – at least!
No wonder I've been feeling so bad!  UTIs can make a person feel very weak, especially when they go untreated for long stretches of time.  And it is more likely for a person to have a seizure (or "weakness with tremor" if the doctors would rather call it that) if there is an underlying infection or other stress on the body.  So it seems to me that the untreated UTI could be the cause of both my "tremors" that sent me to the emergency room and my ongoing fatigue and weakness.
Add to this equation that I started feeling better after four days on antibiotics, and I think it is fairly likely that my "weakness" or "seizures" or whatever we are calling them had something to do with my UTI.
But even after I finished the antibiotics last week, I was fairly sure I still had the UTI – although I'd improved, I was still feeling very weak.  Long story short, I asked my regular doctor for another course of antibiotics, and after peeing in yet another cup, sure enough – it turned out that I still had the urinary tract infection.  So now I am on another course of stronger antibiotics, and I've been feeling better and better everyday.  Not perfect yet, but yesterday I made it through the whole day without a nap AND I went to church and to see the La Traviata matinee at the Paramount Theater on the Downtown Mall!  I could NOT have even thought about doing either of those things a week ago.
Newsflash: I just got a call from the doctor's office, and after receiving the culture results, they are changing my antibiotic again, this time to a two-week treatment.
Final Thoughts For Today.
I'm a lawyer by training.  I appreciate bright line rules – they make things clear and are easy to interpret.  But these days, I am not dwelling in a land of bright line rules.  I am in a landscape of gray.  The ER doctors, my regular doctor, my oncologist, my endocrinologist, and I all have slightly different takes on my recent bouts of weakness and faint spells.
At first, having so many opinions was frustrating for me.  After all, I just wanted answers.  Actually, I just wanted one, nice, easy, understandable answer.
After thinking about it, I realize that I've wanted my doctors to analyze my medical condition more like a lawyer would: I've wanted them do in depth research, analyze and compare my test results, make logical deductions, confer with each other, prepare a well-reasoned hypothesis, and present their "case" convincingly to me.
Well, that's not how the medical system seems to work.  Most doctors work long, hard hours, and they have tons of patients to deal with.  They are constantly scrambling just to keep up with all the necessary documentation for the insurance companies and their own records.  They don't usually have the time to go back into the files of each patient, confer, and "prepare their case."  It's more akin to triage than trial prep.  This is too bad, but it's how it is.
So what's this leave me with?  A bunch of differing doctors' opinions.  And my own opinion, which all too often, the medical establishment neither listens to nor trusts.
But I am learning to trust myself.  I know I'm not a doctor, and I don't know a lot about medicine.  But I've lived in this body for 49 years.  I know what I'm feeling.  And I'm good at gathering and analyzing evidence, and developing hypotheses into a logical and well-reasoned case.
Doctors generally don't like it when I apply my legal skills to my own health care. I don't blame them, in some ways.  When I was practicing law I never liked it when lay people who knew nothing about the legal system came in and tried to tell me how to prepare my case.
But if I hadn't become my own advocate in this recent episode, I wouldn't have ever found out that I'd had a UTI for over three months.  And I'd be trundled off to do a sleep-deprived EEG that might be unnecessary and actually do me physical harm.  And I wouldn't have been given the correct type of antibiotics for my UTI until much, much later – probably after I'd had another round of faintness and weakness.
This is enough to convince me.  I will continue to be my own health care advocate.  It's hard, especially when I'm feeling exhausted already.  Or when the doctors look at me like I have two heads.  The last thing I want to do is argue with them.  But I do need to be heard.  So I will keep talking.  After all, I am the patient – where would the doctors all be without people like me?