Saturday, after we left the Kindness Farm, we toured the Grand Ole Opry in Nashville. We are not big country music people, but we loved the tour anyway. The Grand Ole Opry is an American institution, a real icon. We were late arriving for our tour, so a nice guard at the Opry caught us up – it was almost like having a private tour until we joined our group!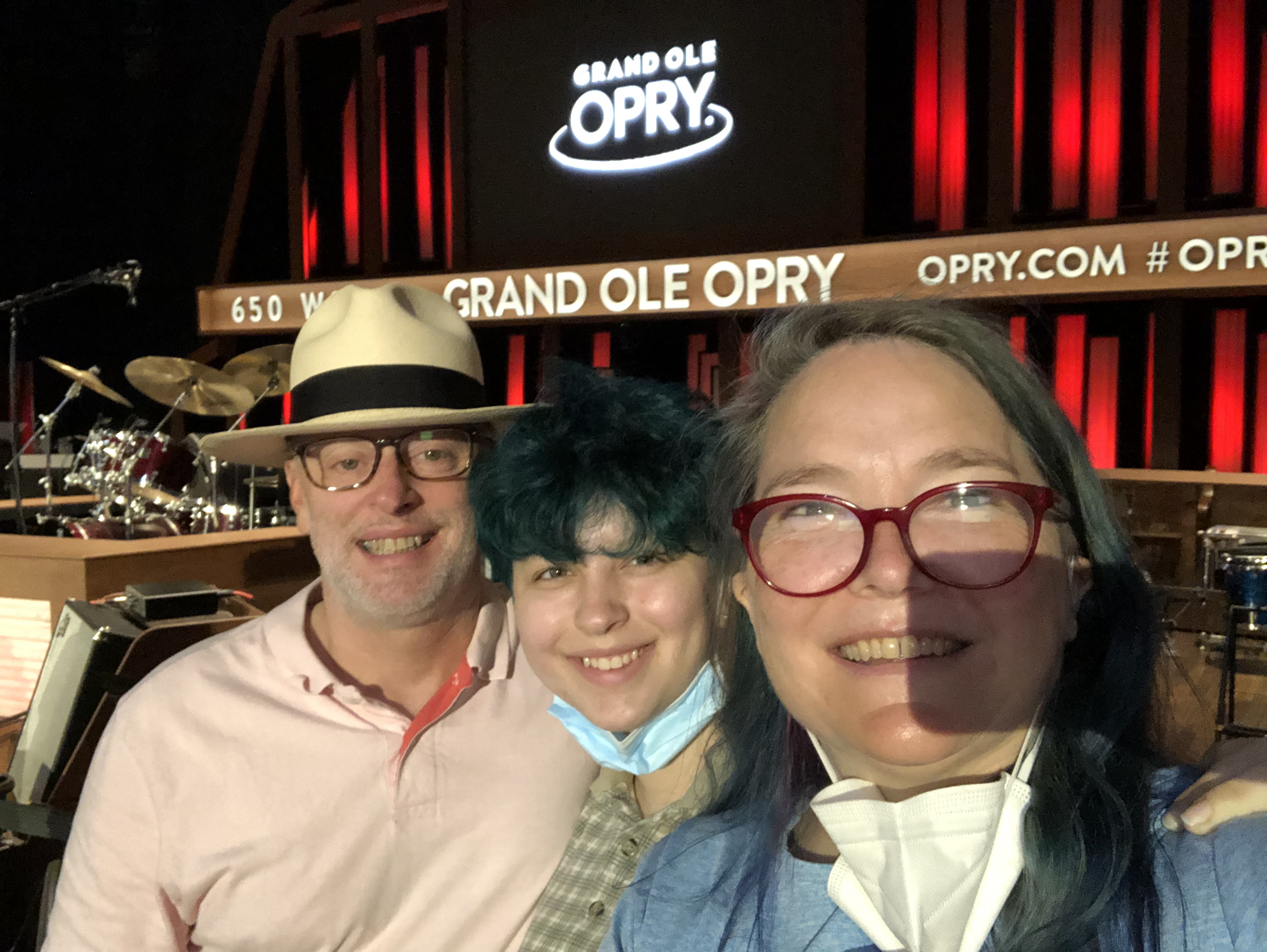 After the Grand Ole Opry we went into a HUGE mall next door and walked around for awhile. It was nice to be in the air conditioning. It is hot in Tennessee. And it is even hotter in our van! We only have air conditioning when we are driving, not when we camp. (I wonder how we will fare when we hit the Grand Canyon…)
After a good dose of mall walking, we drove to Tom's Farm, about 40 minutes east of Memphis. Tom's farm is a little bit like Carter's Mountain in Charlottesville, I suppose, in that it sells pumpkins in the fall. No store or orchards, but during the season Tom provides bonfires for families and folks who want to get out into the country and have an outdoor get together. He raises honeybees, too. This is Tom's retirement, which sounds like a pretty active retirement to me!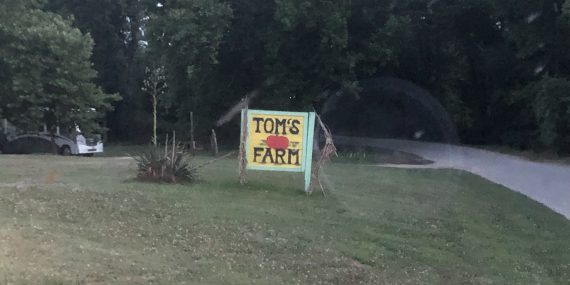 We arrived at 8:30pm on the dot. It is unusual for us to be on-time anywhere on our meander across country, but it's a good thing we were in this instance because Tom was sitting in his car waiting for us. He invited us into his large barn to "sign in" and then he had us pull up some chairs to chat for awhile. Roosters occasionally crowed from their perches 30 feet above us in the rafters and a cat nursed her kittens off to the side as we learned about how Tom's honeybees have been having trouble lately, sometimes abandoning their thriving hives for no reason, sometimes hives mysteriously imploding on themselves without warning, killing the bees. We'd heard some about this type of thing in the news, but Tom said no one really understands exactly what is happening to the bees.
When Marshall said he heard it could have to do with pesticides, Tom reminded us that there are almost 8 billion people in the world and said it would be impossible to feed them all without pesticides. He is a big fan of large agriculture. Since my diagnosis, I've been a big proponent of local organic farming because eating organic foods keeps my body from having to fight through added toxins, so Tom's thoughts as a retired farmer were interesting to me. Would it be possible to feed all the people of the earth without pesticides? In a world with more localized food markets, maybe, where we don't buy and eat food that comes from 3,000 miles away?
I did not offer these thoughts to Tom. I was too tired to contribute much in the way of coherent conversation and, besides, as his guest I didn't want to put him on the defensive in any way (although I think Tom could have handled any argument I might have thrown him). But his comments do intrigue me. One thing I'm already grateful for on our trip is the opportunity to meet people with ideas that directly challenge my own. I especially appreciate this in the context of their kindness to our family, allowing us to camp on their property.
Personal interactions with another human being – the opportunity to see multiple facets of a person's personality and beliefs – stand in stark contrast to so many of my internet interactions with people. Comparatively, the internet presents me with cardboard cutouts of human beings, typically showing me just one side of them, highlighting just one of their many thoughts and opinions, one that often stand in stark contrast to my own, in order to keep me reading, keep me engaged, keep me angry, and above all, keep me on the internet, so advertisers can flash their wares at me for longer periods of time – so I will click here; so I will buy there.
I'm loving meeting real live people on this trip, shaking their hands, accepting their grace, and hopefully giving some of my own. I wish I'd gotten a picture of Tom himself. I will try to do that more in the future.
After a half hour or so of chatting, Tom led us to our campsite for the night – a lovely, quiet green field. We got the van ready for sleeping (it is still taking us awhile to set up each night!) and went to bed. It was very hot and sticky, but I slept really well. I am so happy with how well I am sleeping on the road.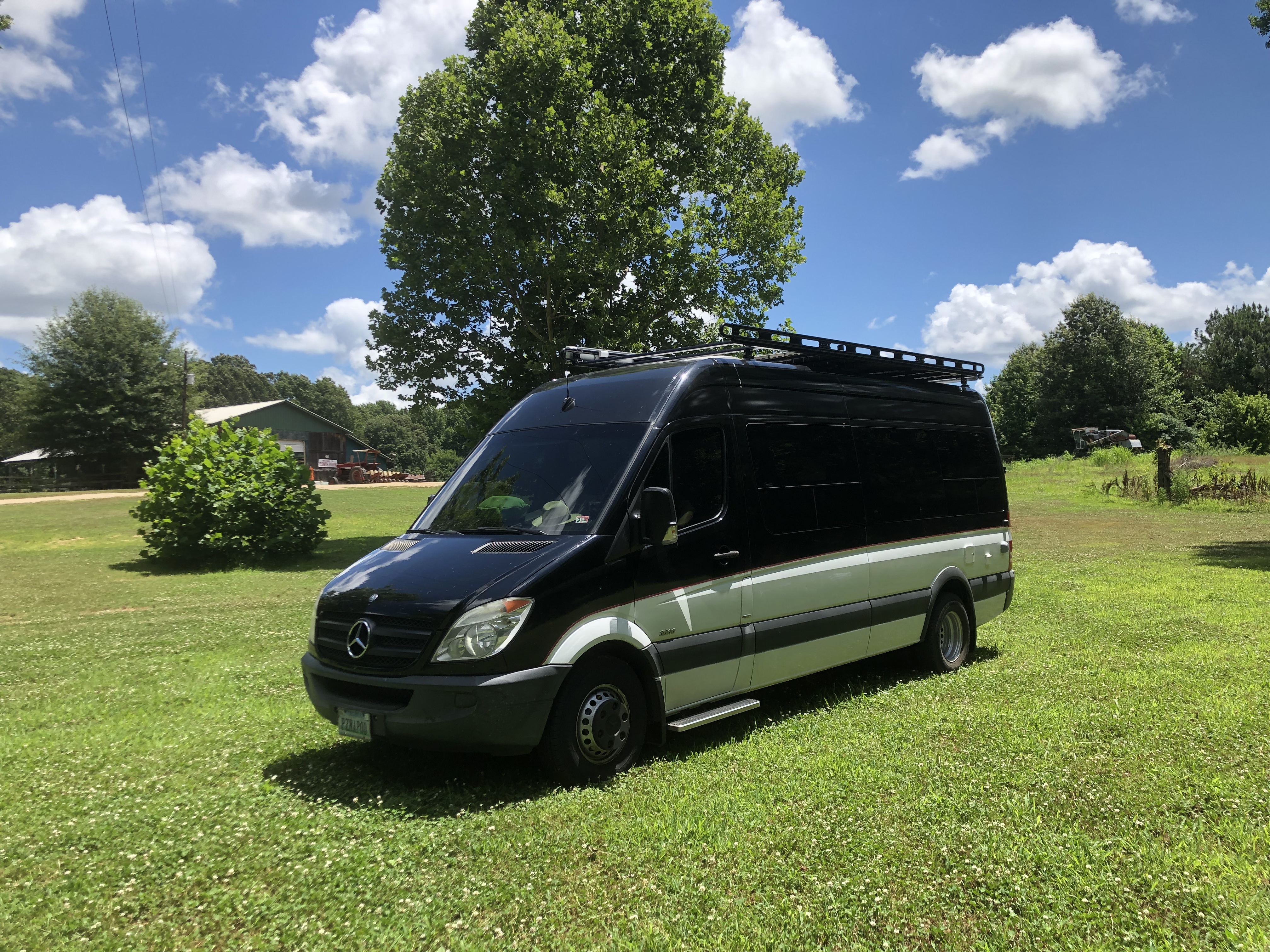 Sunday morning we got up and all showered for the first time in the van. Our portable shower worked out pretty well. We use a folding doggie bath for a shower basin and a shower curtain I had made for the van.
Shower basin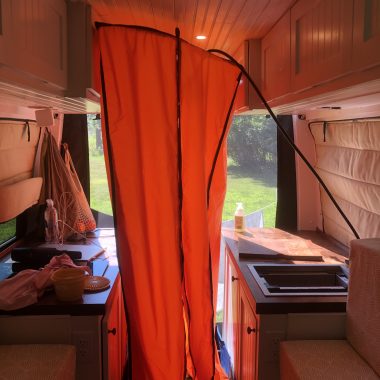 The shower curtain is a little big (and a LOT orange), but it did the job! In designing the van, I'd planned for two versions of a shower – one using a recirculating shower pump, which requires a bit more water than we had onboard, so this particular morning we opted for option two, using our extendable marine sink faucet as a shower head. Not perfect, but it's camping and I have to admit, I thought it was pretty great fun!
We left Tom's farm heading straight for Graceland, home of the King of Rock and Roll. We spent about three and half hours there and it was absolutely iconic! Here are some pictures of our visit: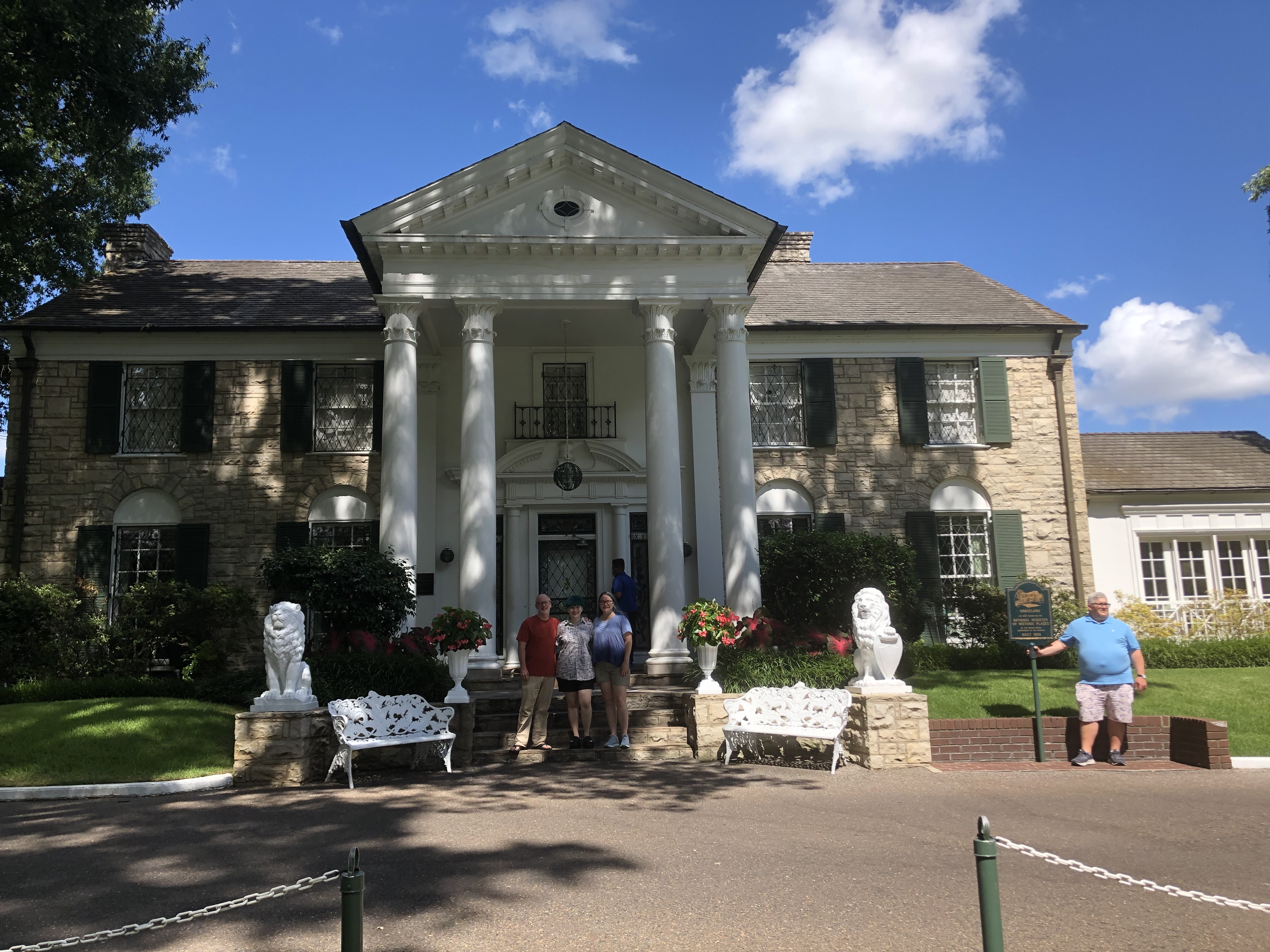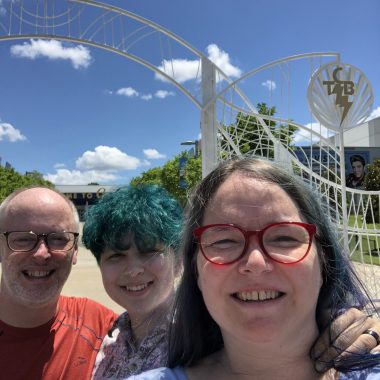 Entering the Complex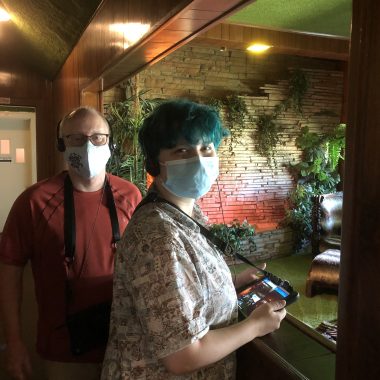 The Jungle Room!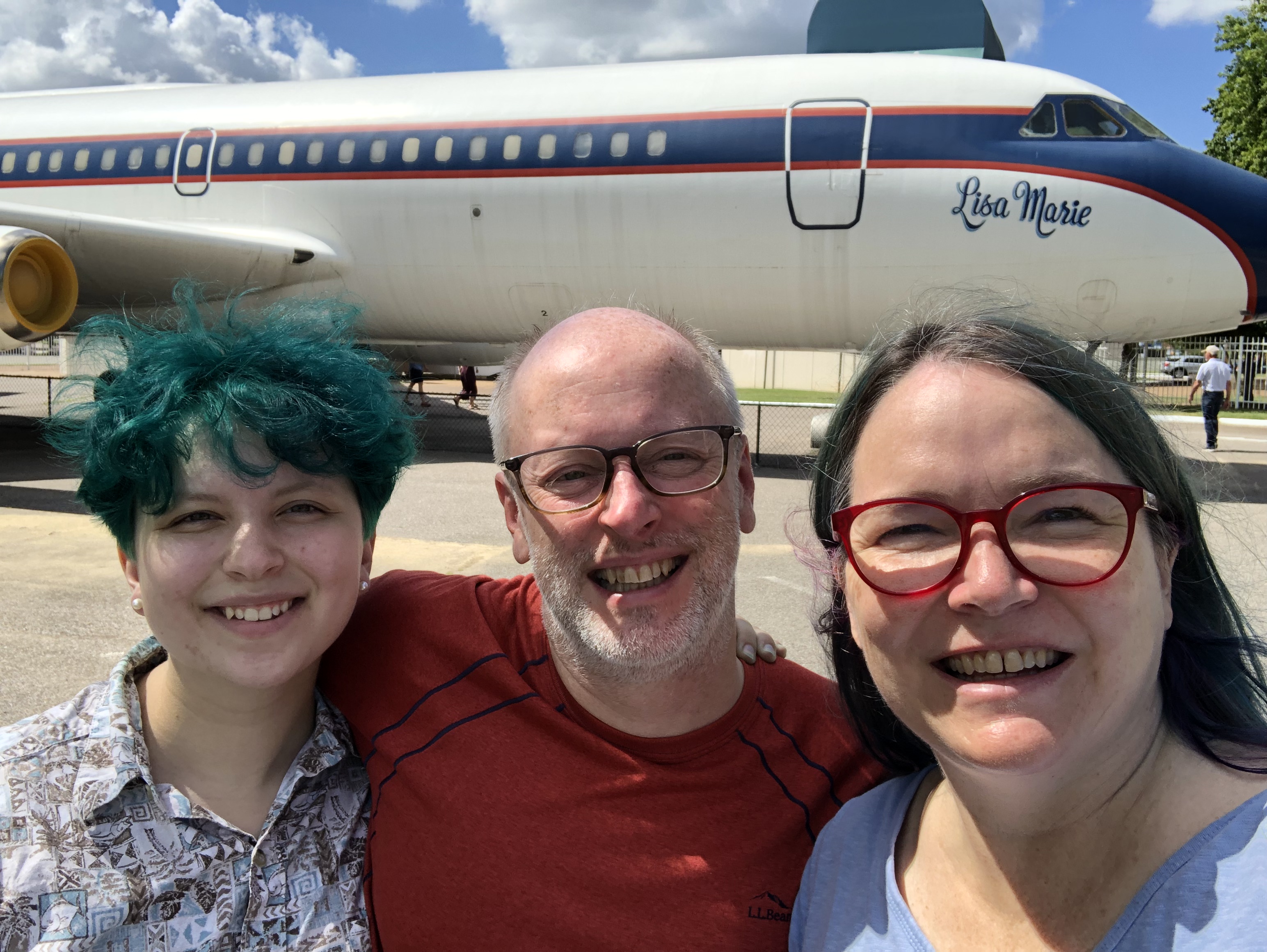 After Graceland, we headed down Elvis Presley Blvd. straight to Marlow's BBQ, which was featured on Diners, Drive-ins, and Dives by Guy Fury himself. I've decided that while I'm on this trip I will allow myself some deviations from my usual all-organic, gluten-free, sugar-free, grass-fed, ketogenic diet. So I had me some pulled pork with some fine molasses and vinegar BBQ sauce, beans, and slaw. And mud pie for dessert.  Absolute yum!