I wake up with so many things to say, and I am grateful that this blog is finally up and running so I can start sharing all that is going on inside of me.
But first, I think I should bring you up to date.  I had an overnight at the hospital this week.
Background: Since I was discharged from Martha Jefferson after my initial night at the ER I've been at home.  Home is great – warm, cozy, safe and very, very comfortable.  In the past two weeks I have established an amazing routine of getting up early and tending to my spiritual and physical needs.  I'll share more about this another time.
The problem has been that sometimes I don't feel great, and the big question has been whether this has been because I've been having more seizures or not.  It is important for my medical team to stabilize my seizures before surgery – they don't want me to have one while they are operating.  It's also important for me psychologically – the seizure I had the night at the ER was not a fun experience.  It was scary, and I don't want to feel that way again anytime soon.  The problem for me has been that it is hard to distinguish whether the symptoms I've been having in the last two weeks have been seizures about to happen, side-effects of the medications I am on, or just some more of the weird muscle spasm-y things I've been dealing with for years.
They decided to admit me to UVA hospital on Thursday to find out.  Rather than simply call me in for a two-hour scan and hope to see what they needed to see during that short, random time frame, they decided to bring me in for a comprehensive test where they could monitor me 24/7 for as long as necessary to find out the exact information they needed.  I could not have been more pleased that my medical team chose this comprehensive approach.  My confidence levels in them were already high, but have simply skyrocketed as I've watched how they've gone about their analysis of this first real issue.
I have to admit, I wasn't thrilled to leave my comfy spot on the couch in front of the fireplace for a hospital room, but I decided to pretend to myself it was sort of a "hotel stay," and an opportunity to "get away for a few days."  Given what I know now about the particular hospital unit I was in, I can say with certainty that was being overly optimistic.
The unit is used to monitor seizure.  It was definitely full-service: they were going to do a continuous EEG, which meant audio and visual observation and recording of me and my brain the entire time I was at there.  Remember that movie The Trueman Show?  I was Trueman.  There were nice ladies at the other end of the video camera watching my every move, and ready to call in the troops if I had a seizure of any kind.  "Getting away for a few days" this was not.
The first thing they did was wire my head for sound:
This process was slightly reminiscent of getting a perm in the 1980s.  (Shout out to Barbara Streisand, perm iconoclast of said decade).  Actually, it was more like getting a hot glue gun treatment all over my head.  Only the glue was cold, and then blow dried with cold air.  Basically, they were gluing electrodes onto specific parts of my head so that they could see what specific parts of my brain were doing at all times.
When they finished, I looked like the borg.
Actually, I felt more like I was a character in M.T. Anderson's marvelous book, Feed.  Only it didn't feel so marvelous.  I was utterly connected.  A human Internet.  I'll just say it: it was awful.
And you know what else I noticed, albeit later?  Being hooked up this way made me seem and feel sicker than I really was:
Look at that – don't you just want to say "poor little sick girl" when someone looks that vulnerable?  Well don't.  I wasn't a poor little sick girl right then – but I was starting to let myself be brainwashed (ha, brainwashed) into thinking I was.  I don't blame myself, really.  I was scared I was having seizures.  I felt yucky.  They were plugging my head in, for goodness sake.  But looking back on it with the knowledge I have now, I realize that I'll need to constantly remind myself on this journey to not let the outside details completely define the inner experience.
After my "perm," they did a test on me complete with flashing lights.  It totally reminded me of the the treatment used for the rehabilitation of criminals in the Star Trek episode "Dagger of the Mind." (Full explanation: our daughter, Hannah, just went through a HUGE Star Trek infatuation in the last year, from which she is now only starting to emerge.  As a family, we have now watched every episode of Star Trek ever made at least three times in one year.  What parents will not do for their children!)
Anyway, after my wiring, I was taken up to my room and they plugged in my brain.  And then they plugged in my heart to another monitor.  And then they told me people would be watching and recording me at all times.  And that I could not go to the bathroom by myself.  They put an IV in.  And took my history.  And took some blood.  Then they said I could "relax."
Fortunately, the cavalry came.  Sister Cecilia and Sister Glenna, two Benedictine nuns who have known me since I was in second grade, if not before, came for a visit.  They had driven down from their monastery in Northern Virginia – the one I am affiliated with as an oblate.  They are both wise, smart, deep women of faith and strength and I was honored that they wanted to come just "lay eyes on me."  We had a great visit.  It was good to share my diagnosis narrative with people who had known me all of my spiritual life, and they agreed to be part of the "spiritual dream team" that I've been trying to put together in the last two weeks to help me as I embark on my unexpected journey.
Long story short, after they left, I was observed all night.  I had to mark when I felt my yucky spells and jitters so that the neurologists could read and interpret my scans the next morning.  I maybe had 4-5 "episodes" to mark.  Everyone was very kind, but the setup was uncomfortable and I felt tethered – not great for my independent streak.  I didn't sleep much.  I felt restless. I missed my family.  It was pretty crappy.
I woke at 4:00 in the morning and my nice nurse, Anne Marie, let me talk her into setting me up in the day room, even though it was still night.  They plugged me in and got me monitored and then I put down my yoga mat and did my morning routine of trying to unwind my tight muscles – something that has become a part-time job in the last half year, and something I now wonder if could be related to my brain tumor.  I spent an hour at it, and it felt great – for both my muscles and my mind.
After some meditation and organic food (which I brought myself to the hospital so I could stay on my cancer-healing routine of foods – more on this in another post, I promise), I met with the resident in charge of me.  She outlined the procedure for the day and said it was possible that they might try to induce me to have a seizure that day.  This sounded like the most horrible thing in the world – having another seizure is the thing I've been worried about most in the last two weeks.  I braced myself for a long, hard day.
And then everything changed.  I met with the attending doctor – who was great – and after our meeting she decided to send me home!  Best and most surprising news in the world!  See how much happier and confident I looked when they told me I was getting the electrodes off: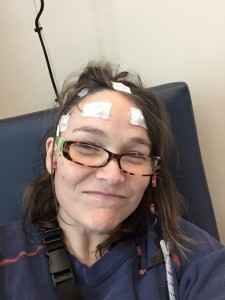 Here's why: my EEG scan was normal.  I was not having seizures.  The yucky feelings I was having were not brain events but probably just side-effects of the steroids I am on.  The anti-seizure medications were working, and they were going to increase them a little to make doubly sure.  They felt that I was good to go for surgery and that it was unlikely that I would have a seizure on the table, given the information they'd gathered and analyzed in the previous 24 hours.
I was – and am – thrilled!  It was hard for me to know whether those yucky feelings I've been having were the onset of another seizure or just bad reflux. Now I know.  I am not having seizures.  I can relax and know the yuckies will almost assuredly pass without me having to take another ambulance ride to the hospital.  My medical team can be as sure as possible that I am ready for a seizure-free surgery.  And I can be home – the place I most want to be, with the people I most want to be with.
I want to thank my medical team for taking the harder, more detailed road in order to get the exact information that they – and I – needed.  It has resulted in an analysis that has given me such reassurance and confidence. I feel so much more ready to go forward now, and I am starting to realize that how I feel about my situation will be a key component to me moving through it in a healthy, healing way.
Great thing to know.