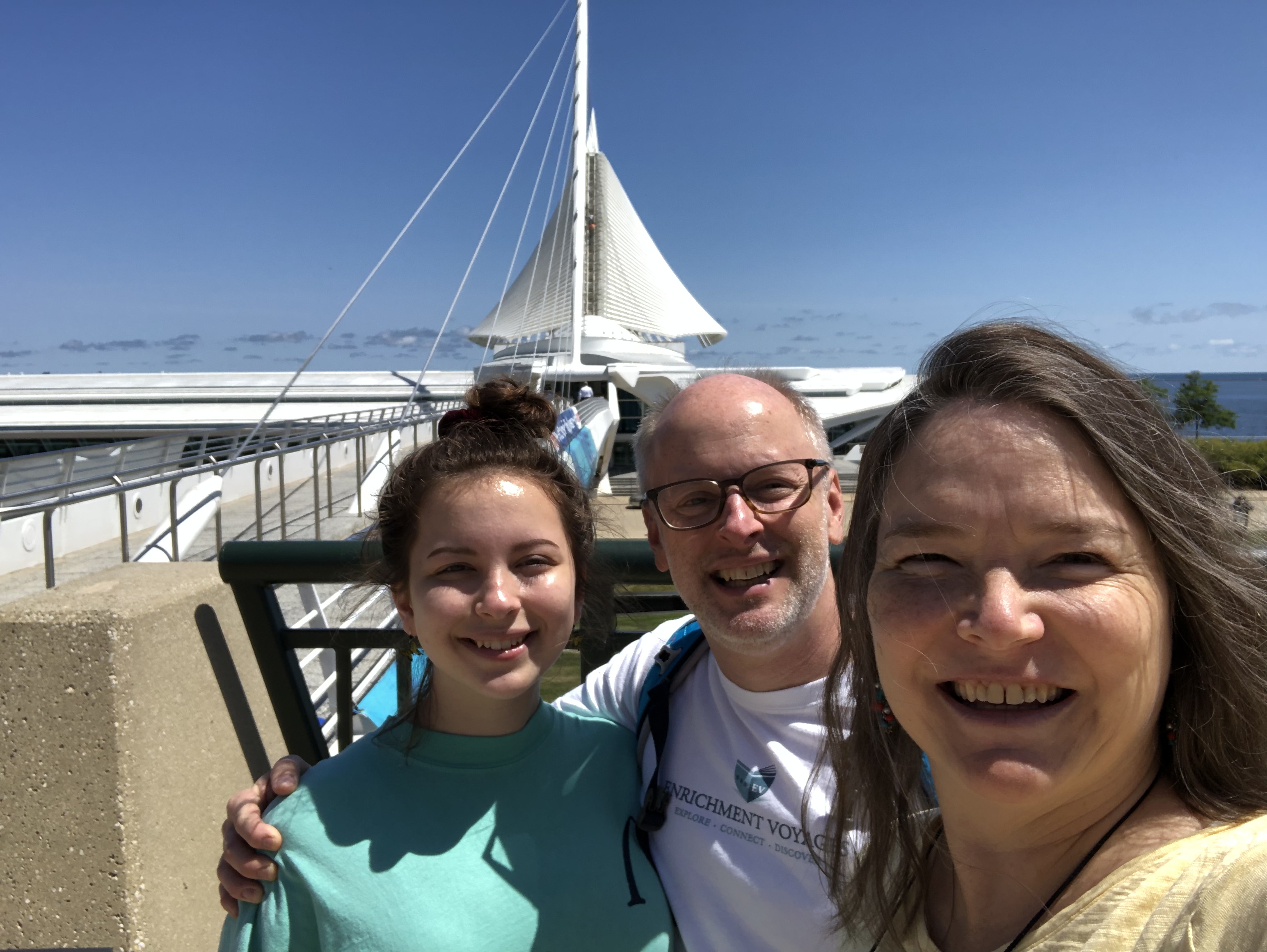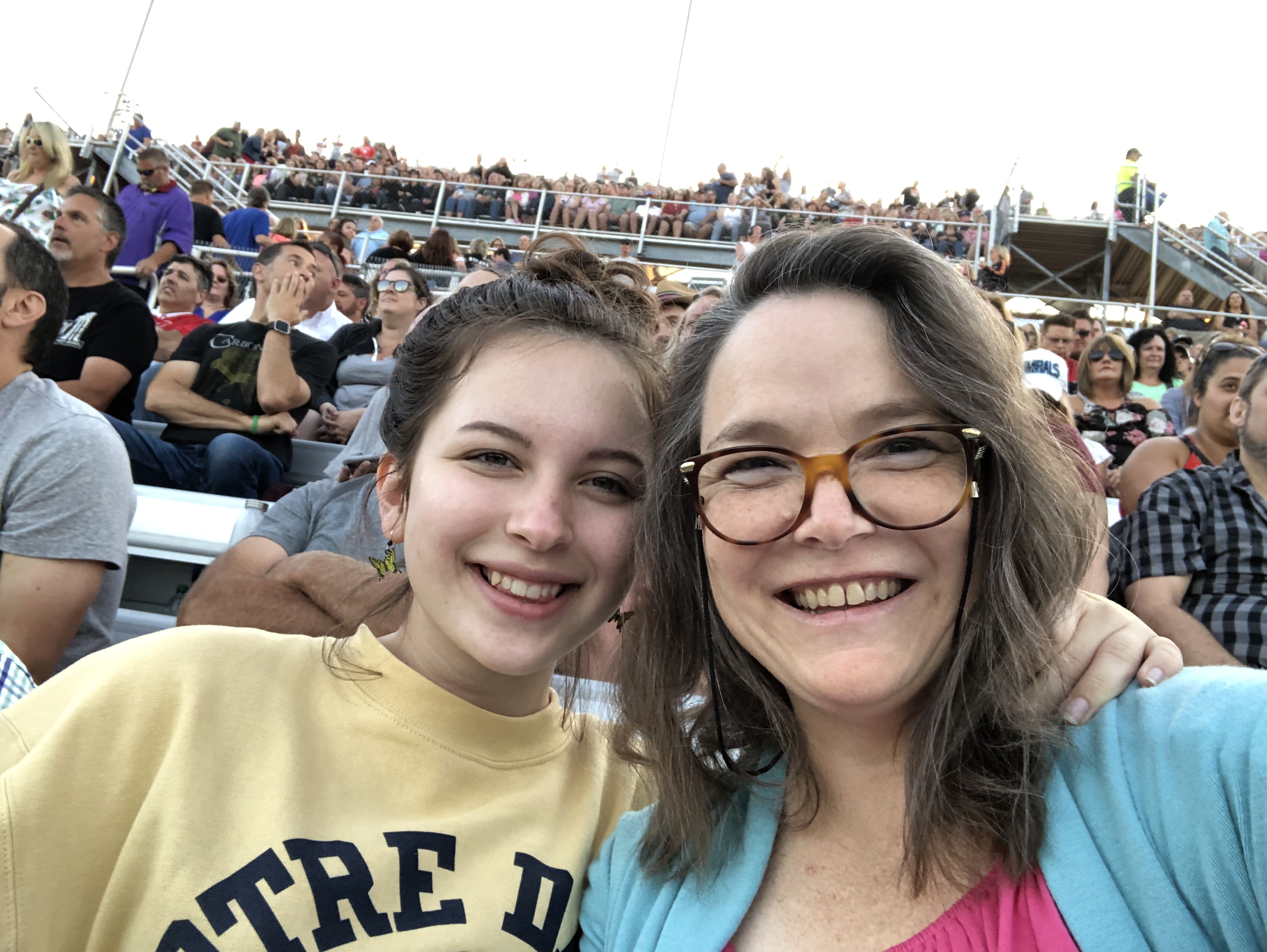 So, I've not been posting recently – overall, I've been enjoying a pretty great summer:)
The highlight was a two-week girls' road trip to Iowa for Hannah and me. Hannah had been accepted into the Young Writers Program at the University of Iowa (a fine, fine program I might add) where she spent two weeks in July with other young writers, led by graduates of the renowned Iowa MFA program. So now she probably knows more than I do about magical realism. (Okay, so that wouldn't take much.)
We took two weeks to drive all the way to Iowa, stopping to visit relatives and look at six colleges along the way, to get a little jump on all things college for Hannah's junior year of high school. All in all, we saw Georgetown, Case Western Reserve, Notre Dame, U Chicago, Northwestern, and Grinnell (not to mention the University of Iowa, where Hannah's writing program was housed).  Basically, we walked miles and miles and miles on said college campus tours in 90 degree heat.
I did GREAT! I clocked seven miles at Notre Dame, drove to Chicago, and then turned around the next day and walked another 4 miles at U Chicago. Honestly, I could not have asked more of my body. I promise to post pictures another time, but the bottom line is that Hannah and I had a great time and I felt really good the whole way to Iowa.
So July – no problems.
Flash forward to August. I had two seizure-y type events, which we won't call "seizures," just to be confusing. This is the latent lawyer in me – I am sorry. I am not trying to be confusing, I am just shooting to not being liable for anything (not that there is anything to be liable for at this point). Whatever. The point: we are not calling them seizures, officially, but they were pretty similar to what happened the day I was diagnosed back in 2016 (which I don't think we ever decided to call "seizures" either). Let's call them "episodes." Has a nice ring to it.
Anyway, the bottom line is that these "episodes" felt really, really yucky. And scary. Some twitchy stuff. Some stomach stuff. Some bathroom stuff. Some needing to lie down stuff. No passing out, though.
There have been two such episodes. The first happened at the Milwaukee Art Museum. It was a really cool art museum that I highly recommend visiting if you have the chance – all white interior, spartan ship vibe, right on the water. Uber-cool. The exhibit we visited was unexpectedly multi-media and the first video had some lights that flashed in a repetitive way. I didn't feel great when I got to the museum to begin with, but when I looked at the video I felt vertigo immediately and felt sick. When I  looked away, the vertigo went away but I still felt bad. (Flashing lights can cause people with epilepsy to seize, but this had never been a problem for me before.) Looking away from the video definitely helped. So, of course, I looked back at it again just to "make sure." What can I say, I like to experiment. It happened again. Hypothesis validated – I felt smart but not well. I had to bail out of the exhibit early, eat something, and rest in the cafe for awhile. After eating, I felt better enough to walk back to the hotel. I attributed the whole thing to not particularly enjoying modern art to begin with. Okay, not really – it was a super exhibit. But I did think it might have been caused by a combination of dehydration, traveling (which always puts a strain on my ketogenic diet), and maybe a little touch of a stomach bug I didn't realize I had. I didn't have a problem for the rest of our visit to Milwaukee (even when I went on some rides with Hannah at the Wisconsin State Fair a couple of days later).  I thought I was go to go.
But no.
The second one happened maybe 10 days later, at home after eating my mom's meatballs (which were and are awesome, by the way). After dinner, we were playing pinochle with my parents when I started feeling bad again. (Shoot, Mom and I were winning, too.) I lay down (good grief, is lay really the past tense of lie? I dislike it), took my anti-seizure medicine and another one for good measure, and, after about a half hour of feeling truly awful, finally started to feel better. We called the hospital and talked to the neurologist on call, who doubled my daily anti-seizure medication to begin the next day. I felt pretty tired and weak for a few days after, and didn't really get back to feeling somewhat normal until this week.
So, the question is why are these "episodes" happening?
There are several possibilities, the most obvious of which (no elephants in the room here) is that the tumor is growing back. This answer, besides being not so great in general, doesn't strike my gut as feeling right. So, last week I went to my regular doctor's office with a few other possibilities to discuss:
First, recent blood work shows my sodium and magnesium have been slightly low. Both can affect seizure threshold. So I'm now sprinkling salt liberally on my food and taking a magnesium supplement.
Second, my muscles (which have been tight for years, but have been finally releasing since my tumor was removed in 2016) have released some seriously deep tightness recently – so, could it be caused by some kind of weird muscle or lymph issue?  This is a kind of "on the fringe" type of possibility, but what the hey, it's worth putting out there.
Third, my doctor and I (at my request) had been messing around with my thyroid medicines a bit, based on a small study that implies that tumors might grow slower if thyroid medicines are switched up a bit. We finalized this medicine change in mid-July, after I got home from our Iowa road trip. Could it be the thyroid medication? Since I've been having these episodes, my face has been quite puffy, I've suddenly and inexplicably gained weight, and I've been pretty tired, which can all be caused by uncontrolled hypothyroidism. My gut tells me this is what is perhaps going on.
So, over the course of the last week, with my doctor's help, I've switched back my thyroid medication to what I used to be on. And sure enough, I have been feeling better and better. I've gone from not feeling like I could go on an unsupervised walk at all to walking a mile yesterday at the gym. A very good sign. I am hopeful this is it.
But we've also moved up my next MRI from September 12th (my six month checkup) to tonight at 8:20pm – just to be sure these episodes aren't being caused by the tumor growing back. It's a pretty big MRI for me. I realize this and feel the gravity to a certain extent because these episodes are such scary events.  But my gut still tells me they're being caused by something other than the tumor growing back.
Please keep me and my family in your thoughts and prayers tonight. The MRIs themselves aren't usually the problem for me. It's the IV that is always dicey and sometimes makes me pass out. Here's hoping for a very skillful and patient nurse.
I'll meet with my oncologist tomorrow to find out the results. I promise to let you know.