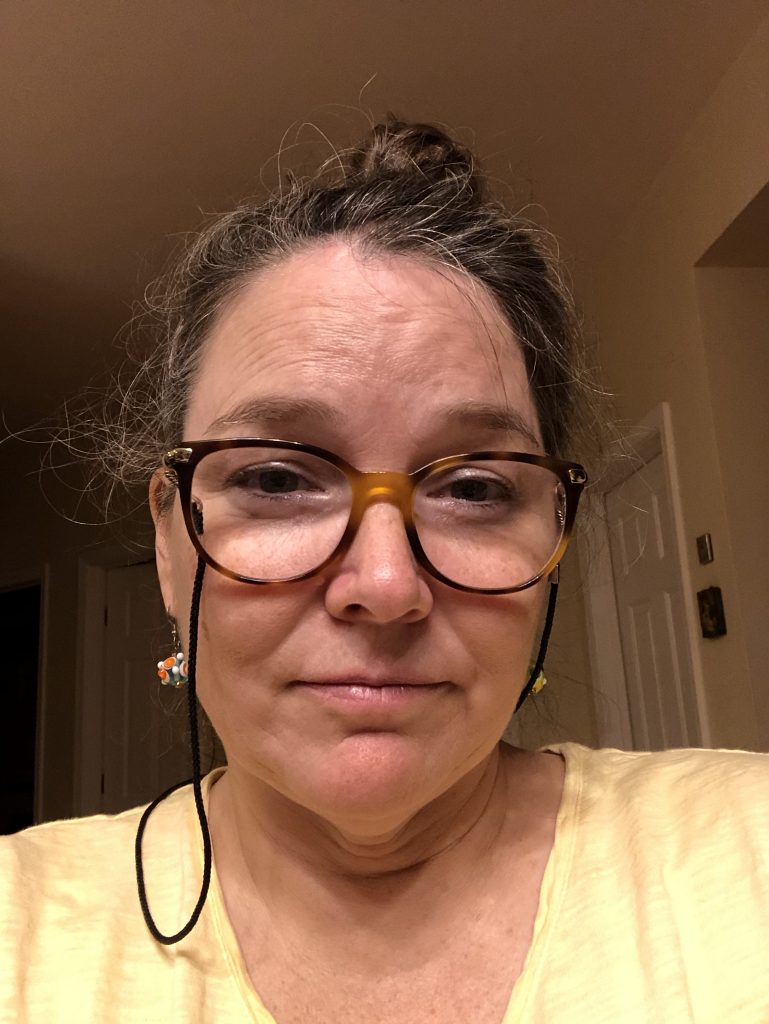 Tomorrow, I meet with my oncologist. Sadly, he was called away last week when his father died. Please keep him and his family in your prayers.
Please keep me in your thoughts and prayers, too. There are so many decisions we are going to have to make soon.
The first decision we've pretty much made: I will very likely be having surgery. We just need to decide which surgeon will do it, where I will have it, and when it will happen.
I really like the surgeon at UVA who did my surgeon last time. When I met with him last week, he mentioned a new surgical technique that he could use on me this time that sounds both cool and helpful – I'd drink something that would illuminate the cancer cells in my brain during surgery, making them easier to find, identify, and cut out. It's been used for a few years and is apparently relatively safe. The problem is, my surgeon has never used it before. I would be the first. As much as I like him, this feels too serious to be the first. I am looking for significant experience.
This complicates things quite a bit. If he doesn't do it, I'd have to go out of Charlottesville and likely out of Virginia to have surgery. How does one even begin to find out who is and who is not a great brain surgeon? I thought looking at neurosurgery and cancer hospital rankings would help – Johns Hopkins is ranked very highly in both. But when I talked to my surgeon, he wasn't so keen on how they do neurosurgery there. Apparently they use a radiation "wafer" that they put in the brain where the cancer is resected. Some people think this is great and others think it's not.
I've had my films sent to the Mayo Clinic so I can talk to the doctor I met with last November for a second opinion. I'm sure he will have some opinions about good surgeons. My guess is that they'll be at Mayo. The problem with health care is that it is also a business and brain surgery is an expensive (and presumably profitable) ticket item for any hospital. Probably every hospital that does neurosurgery would want me to go to their particular surgeons. Look, I have brain cancer. How am I supposed to know who is the best to choose? I guess I will have to get recommendations from surgeons, starting with mine at UVA. This feels like it's going to take lots of time and effort.
I guess once I pick my surgeon, we can start talking more about when I will have the surgery, although I will definitely talk with my oncologist about that tomorrow, too.
I will also need to talk to him about my plan of treatment after surgery. While the "gold standard" seems to be having both chemo and radiation, there is a lot of discussion about what exactly is the best way to treat patients like me, taking into account both longevity and quality of life. Radiation has so many long-term effects. Once you have it, you can't go back.
I am VERY afraid of radiation. Although I am trying to keep an open mind, I really don't want to have it. Like, at all.
I am sure my oncologist will have me talk to a radiation oncologist about radiation, too, so I can understand more about it. And my plan is also to talk to a palliative care doctor to find out what the end of life – particularly the last few years of life – looks like for someone who has had brain radiation. If I get 5-7 more years of life with radiation, but those 5-7 years are marked by serious cognitive deficits and progressive strokes, those 5-7 years don't sound so appealing.
I may be wrong, but chemo, while tough, seems to be a bit more forgiving. It has short-term side effects, but the long-term ones seem to be fewer in number and lesser in severity. There are two kinds of chemo I would have to choose from – one (PCV) seems to work better, while the other (TMZ) is not quite as good in terms of longevity, but is easier to tolerate.  The "V" in PCV has some serious side effects – neuropathy – but I think recently they've discovered that it doesn't even really cross the blood brain barrier, so I probably won't have it, even if I choose the PC part of the treatment. My kind of tumor is generally more susceptible to chemo, so that's in my favor. Gotta count those blessings!
I will also talk to the doctor about the pinworm medicine that is in the trial phase now. What the hey.
And someone also mentioned to me in a comment here (thank you) that a plant called Ruta has been used in India to treat gliomas. It's been looked at a bit by MD Anderson, but seems to have gotten lost in the literature – I'm not sure why. It seems serious enough for me to want to talk to my oncologist about it, too.
Okay, so that's my game plan, such as it is.
Please keep me in your thoughts and prayers. I hope to be able to remember to ask all of the questions I have. And to be collected enough to really be able to hear all of his answers.