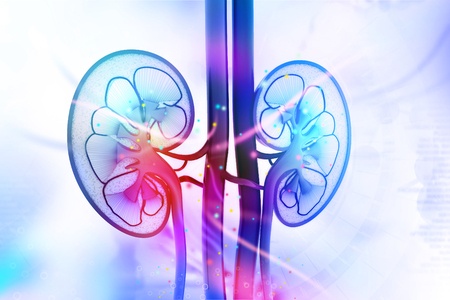 Let me just say this: Last week was pretty stressful.  I'm glad it's over.
Up until now I've been pretty good about keeping perspective.  But I readily admit: last week challenged me.  With a lingering UTI, a callback ultrasound after my mammogram, and a kidney ultrasound, it was a bit much.  I felt sick.  I was stressed.  I struggled to maintain as much positivity in my life as possible.  It was pretty hard.
Kidney ultrasound: Rough process. 
I had my kidney ultrasound on Thursday.  It was a rough process.  Not the ultrasound itself – that was easy.  And painless.  The rough part was the preparation: I had to fast in the morning and only drink two cups of water until my ultrasound, which began at 11:30 a.m..
Normally (someone remind me – what does "normally" mean again?), fasting for that short period of time wouldn't have been a problem for me.  But I have been on steroids since prior to my surgery, and have been diagnosed with "secondary adrenal insufficiency."  This means that all the steroids I had to take for my brain surgery have caused my body – hopefully temporarily – to stop properly making cortisol (the body's naturally produced steroid).  So for right now, until I can wean off of them, I have to take oral steroids (currently hydrocortisone) to supplement my body's natural cortisol production.
Cortisol is necessary to live.  It's the "stress" hormone, and is released when your body has to respond to any stress – whether it be in the form of a fever, an infection, fear, exercise, or an attacking bear.  So it is VERY important that I take my hydrocortisone every day at the right times (10 mg in the morning and 5 mg at about 5 pm).  People with secondary adrenal insufficiency can go into shock or even die without their required dose of steroids. It's that important.
But I have to take my steroids with food, or they bother my stomach.  That's why fasting was a problem on Thursday.  Without being able to eat prior to my ultrasound, I didn't want to take my steroid and potentially rip up my stomach.  I figured I could make it to 11:30.  I'd just bring food and my steroids with me and take them as soon as the kidney ultrasound was over.
Big mistake.  Why?  Because steroids also have an effect on blood sugar – as in they can make a person taking them diabetic.  I've been working incredibly hard not to eat any simple sugars in order to keep my blood sugars in check, and I've been doing a good job of it if I do say so myself. (Having high blood sugar supposedly can "feed" cancer cells, so being diabetic as a result of being on steroids is not something I want to be.)
I have to admit, I don't understand the whole effect of steroids on sugar levels in my blood.  But apparently, the combination of the steroids' effect on my blood sugar, not taking my hydrocortisone that morning, and having to fast, caused me suddenly to become hypoglycemic.   I made it through the kidney ultrasound, but right afterwards I started shaking and feeling very cold and weak.  They wanted me to wait another 20-30 minutes to ultrasound my bladder when it was more full, and I just kept shaking the entire time.  But I also ate and took my steroids, which eventually helped.  After about 45 minutes I finally started to feel better.  When I got home I had some honey in my tea, which helped raise my blood sugar more and made me feel better.
But it was still a pretty major stressor for my body – not good when you have low cortisol levels.
Ultrasound results:  Normal.  But not totally.
The good news is that my kidneys looked like they are functioning normally, and aren't swollen.  That's a relief.

But they also found that I have a 3 cm cyst on my right kidney, as well as a 3 cm cyst on my liver.  Both cysts look benign, which is good.  As many as one in two adults my age have a kidney cyst, so it's not that unusual.  I think it bears watching, though, because I do have some flank pain.  And I do have a cousin who had kidney cancer at about my age.
The liver cyst appears to be a less common thing, but the doctor's note indicates she's not worried.  Still, my plan is to go in to talk to her, just so I can ask all of my questions.
Bottom line: Stressful week.  But not nearly as bad as it could have been.
I won't lie to you.  This week was definitely not optimal (how's that for carefully choosing my language?!).  I felt sick, weak, and frightened.  I also discovered that it is easier to give into fear when I feel sick and weak.  In other words, how I feel physically affects my perspective psychologically.  Good to know.
My infection appears to be on the run – finally.  The culture was negative, and I am feeling stronger each day.  My hope and prayer is that this will continue.  I have learned that UTIs are stinky buggers that can last a long time.  I don't like them.
My mammogram follow up was great – many prayers answered.  I was able to maintain some perspective on this one throughout the process.  I am very grateful for this, and for a wonderful result.
The kidney and liver cysts bother me a bit, I have to admit.  I think they will probably not be a problem, but they are something I need to learn more about and will likely need to keep an eye on.  I can do this.  The results could have been much, much worse, and I am very grateful to not have to deal with worse.
My most fervent hope is to continue to feel better and better.  Hannah's school is out for summer as of tomorrow, and I am ready to have some fun with her!  I need some energy to do this.  As long as the infection stays on the run, I have every reason to believe that today is the first day of a great summer.
Please keep us in your thoughts and prayers.