I am really, truly, here at home! I got home at about 4:00 p.m. yesterday (Valentine's Day) afternoon.
This is just going to be a quick show of some of what I've experienced since I've been home and at the hospital, but mostly I want you to know that I am actually typing this myself at about 11:30 p.m. tonight – Monday. (I know, I should be asleep in bed – that is my next stop, I promise!)  Here's what some of today looked like for me:
Hannah helped me with my Elf Hair today.  Good thing we'd had a little bit of practice together "Elfing-Around" before my surgery.  As you can tell with the "railroad tracks" starting at the top of my scalp, which head down over to my left ear (which looks like my right ear in the picture below), the scar is pretty big.  But my hair is already starting to grow over it, miraculously enough.  I've not counted, but there are LOTS of staples which should be coming out this Friday, when I meet with my oncologist and surgeon to receive some preliminary information on what my post surgery plans might look like.
I'm taking it one day at a time, and my suggestion is that everyone live life this way, too.  It's a very good, very easy way of living life!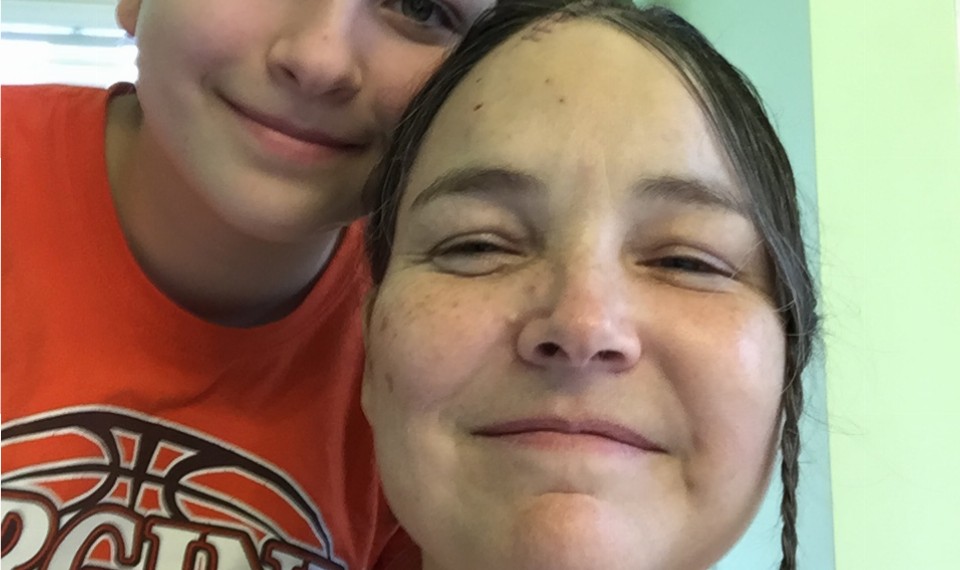 The picture below is from last night.  Marshall wrapped up my head again as tightly as possible before I went to sleep to keep all of the "yuck" out of my hair as I slept.  Tonight we'll probably wrap it up again, just to make sure to keep the incision as clean as possible:
Here is a picture from a few days ago.  Today (Monday, February 15th) is the third day I've been able to wash my head since surgery.  It was pretty amazing that they had me up and washing it in the shower on the 13th, just two days after surgery.  What an amazing brain team they have at UVA!
Below is a somewhat defiant picture I took when I first saw what things really looked like under that wrap.  I guess I am entitled to a few defiant looks these days.  You can get a little bit of an idea of the "railroad track" that goes over my head and then down to my left ear (which again, appears to be on the right, but is really the left side of my head).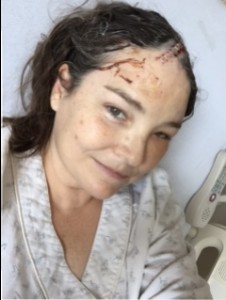 This picture, below, is where Marshall is driving me home from the UVA Hospital!  I was so excited to get back home!  As soon as I got inside, I pretty much said hi to Hannah, Mom, Dad and our beautiful collie, and then went right off to sleep! I had no idea how tired I was.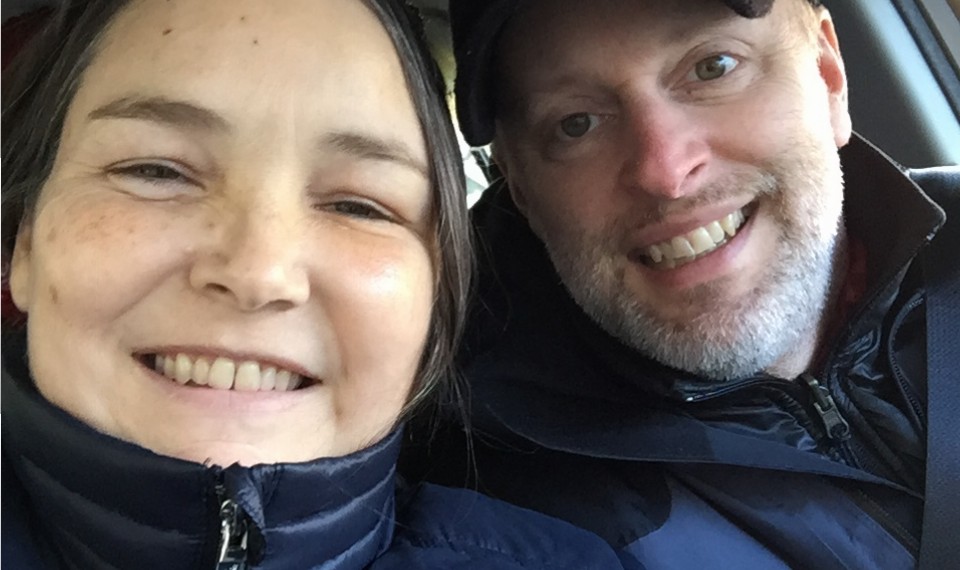 Backing up a few days from yesterday, the below picture is from before my head wrap initially came off for the first time, I think.  Actually, we may have already taken it off once – it is hard to remember at this point, silly as that seems!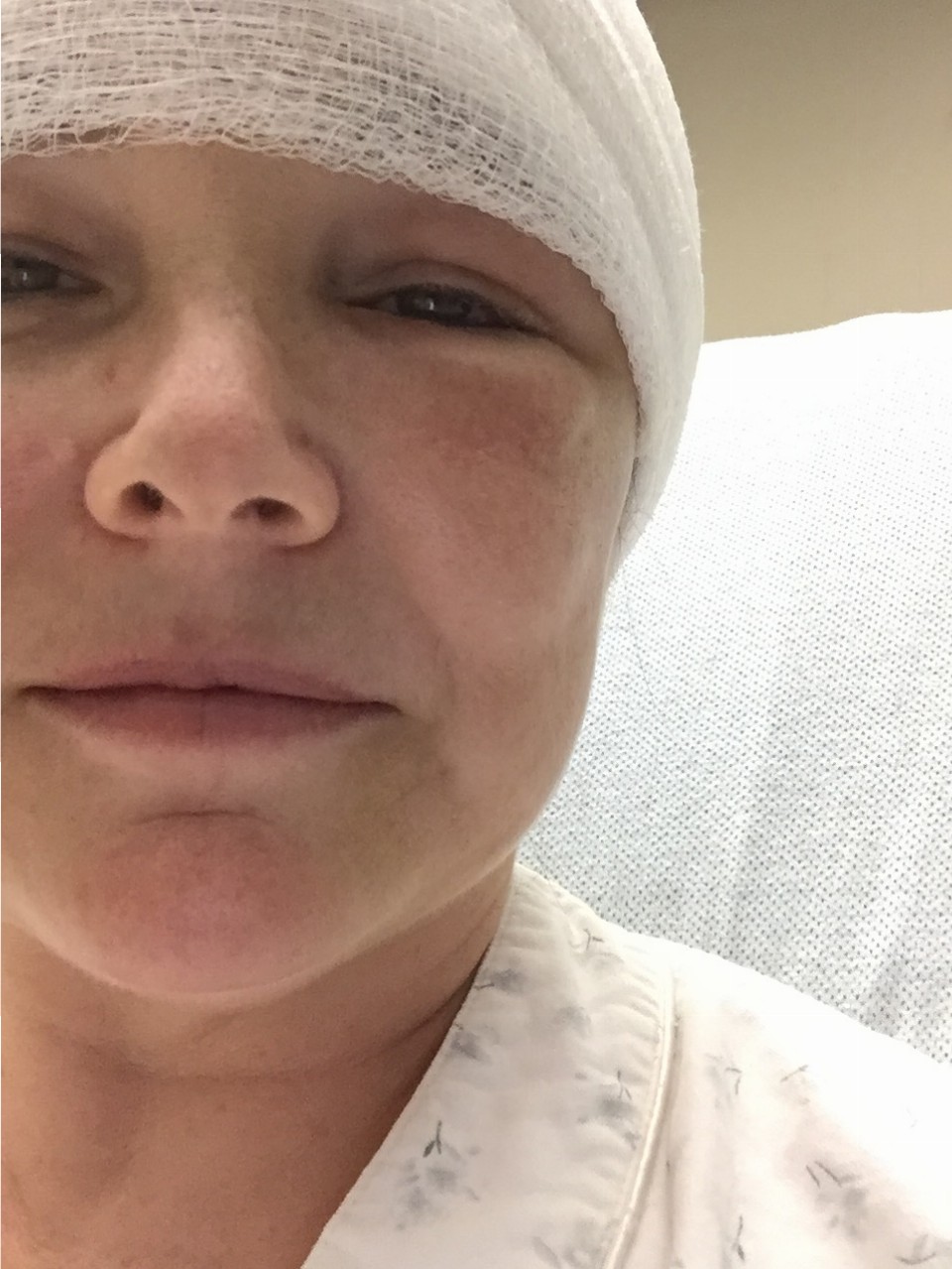 Below, I am trying to "get my head around" the scar that I'm seeing for the first time.  It's pretty big, I have to say.  But it is really just amazing how the hair is already growing back in place already!  And you can just scroll back up to the top of the page to see how much blood and gunk has already started coming off during the healing process.  The human body really is an amazing thing.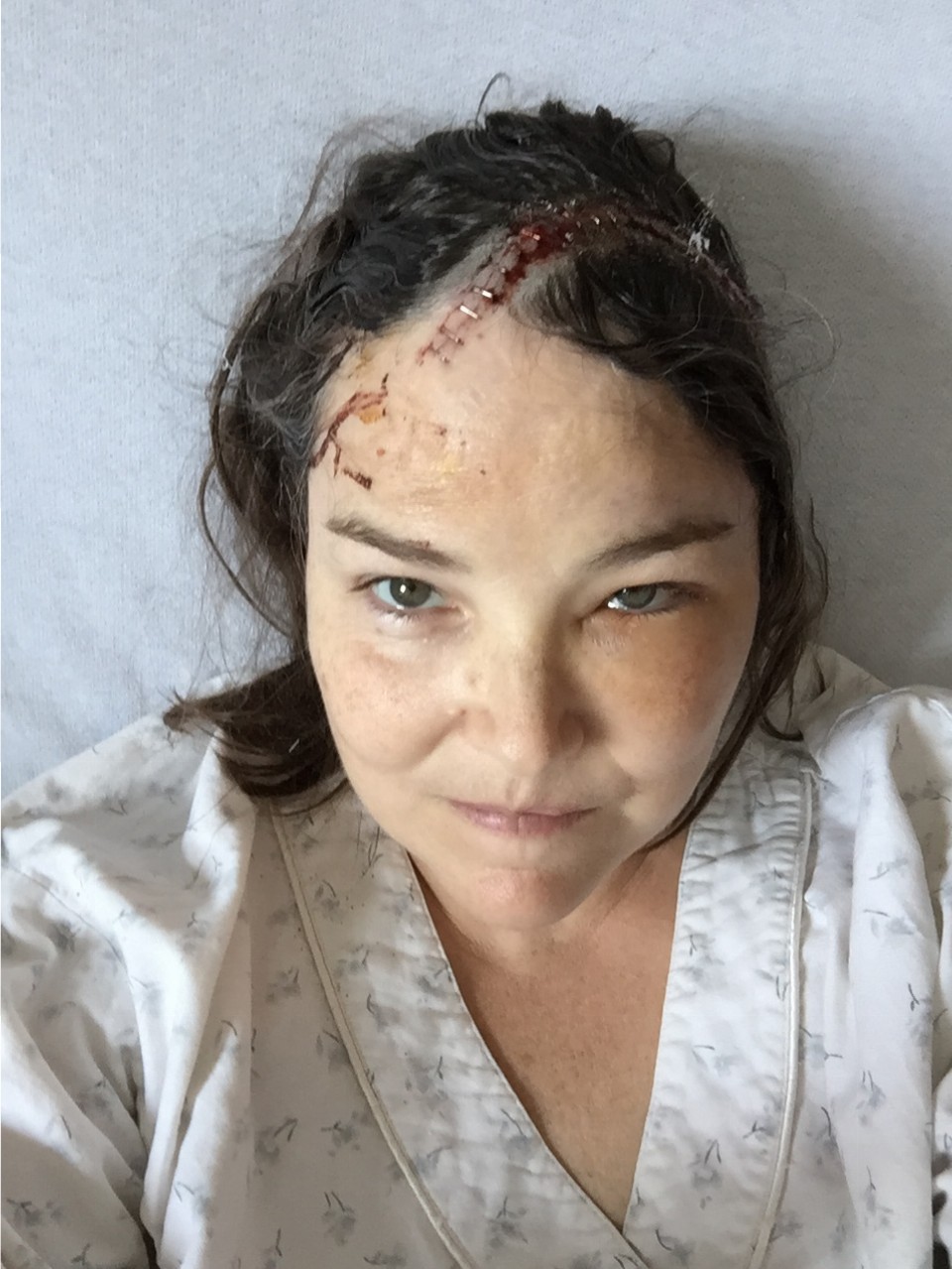 And yes, I am totally, totally working the Queen Mother thing in the second picture below.
Marshall recognized it, I think.  Thank goodness someone did!  That is Skylar Jordan, my RN from ICU, walking me over to my "regular room" in 6 West.  It was a very exciting walk to that step down unit, by the way.  Nate was my first nurse that night in ICU, and he couldn't have been more wonderful or even-keeled either.  I was a very well-cared-for patient.  Thank you Nate and Skylar.  I hope you both know how wonderful you are, and hope you will always know in every little part of you how very much I needed you while I was in ICU.  Thank you.  Forever.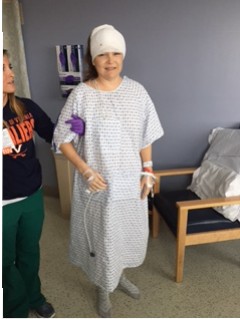 Okay, that's going to have to be all for me tonight.  It's too late for me to stay up any longer.
I am very, very grateful to be home.  Thank you for praying me here.
More tomorrow.