It was really great to get out of the house!
Wow, was it ever good to get out of the house, to get out of the "recovering from cancer routine" at home, and to get out of my comfort zone a bit!  The whole family needed a vacation after all that has happened since my diagnosis in January.  It was great to just leave it all behind for awhile.
The ship was just beautiful!
And the weather (for the most part) and scenery were terrific.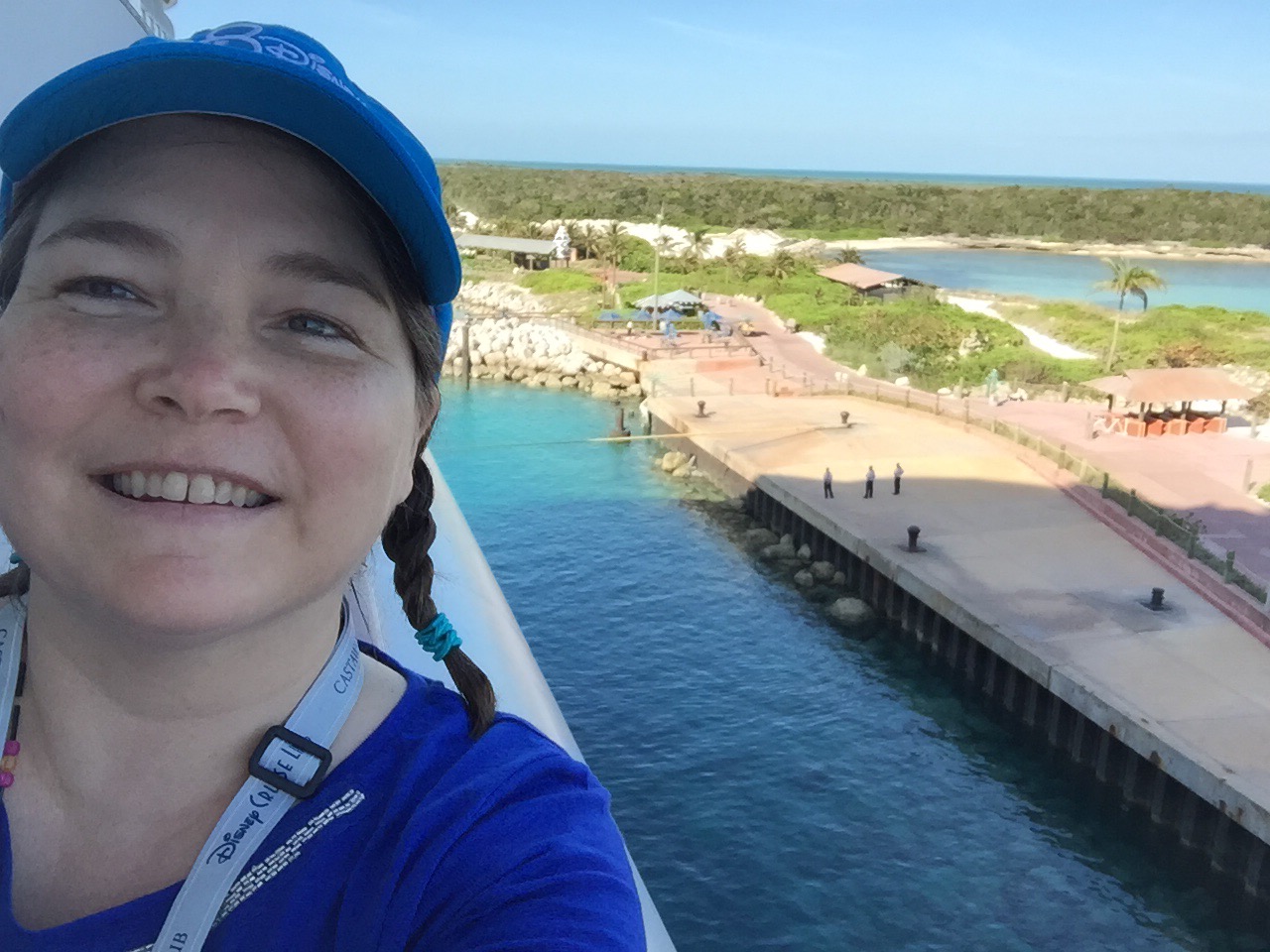 And there were lots of great things to do, like go on a semi-submarine ride in Grand Cayman.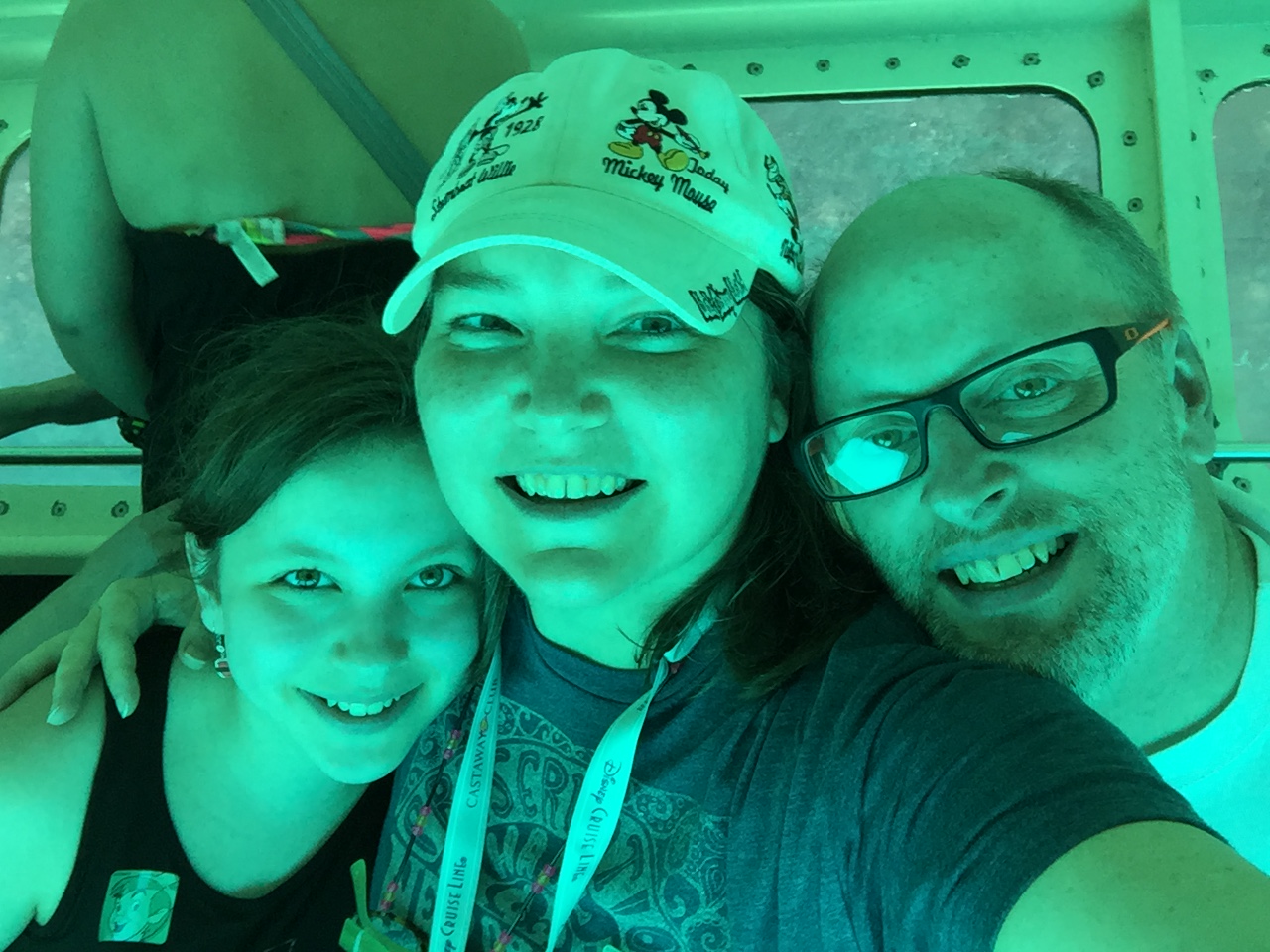 But I have to admit, the fatigue factor was rough for me.
I was exhausted for much of the trip, and it was a challenge for me to cope with such extreme fatigue.  I had to take my steroid pill every other day, and each day I took it I was pretty wiped out.  The first night I stayed up late to see a Star Wars movie in the theater, and by the end of it I was so tired it actually felt dangerous.  I could not get back to my cabin fast enough to go to sleep.
So I gradually (and admittedly, grudgingly) over the course of the week learned not to push myself so hard (who ever thought just watching a movie would be considered "pushing yourself"?)  This involved making some difficult decisions – like going to sleep earlier than the rest of my family while they went to watch a movie that I really wanted to see.  Or taking a nap in the middle of the day (again, while the rest of the family did something fun without me).  Or just sitting and having a cup of tea instead of taking a ride on the water slide.  Or staying on the ship instead of wandering around Cozumel.  Sigh.  I hate missing out on the fun stuff.  But I had to (and still have to) learn to make the best decisions for my tired body.
The Culprit: The Steroid.
My fatigue wasn't a result of my brain surgery, per se.  Rather, it was a side effect of the steroid I've been on – Dexamethasone.  I don't mean to badmouth steroids.  Steroids are great – they are life saving and were important to reduce the inflammation in my brain before and during my surgery – but they have horrible side effects that are sometimes very difficult to manage.  One of them is "moon face" and another is weight gain.  Just look at the pictures in this post, and you'll no doubt see what I'm talking about.  There are some days when I've woken up and looked in the mirror and just started to cry because of how I look.  But the most challenging steroid side effect for me has been the extreme, extreme fatigue.  It has changed every contour of my life, and this was especially noticeable on our vacation.
Weening Off.
My oncologist has been trying to ween me off of the Dexamethazon entirely, but this has to be done slowly and carefully because being on steroids for a long time can cause one's natural steroid levels (in the form of cortisol, which is produced by the adrenal glands) to drop drastically.  Cortisol is known as the "stress hormone," and it, in part, regulates our energy.  Normal cortisol levels are 4-23 or so.  Before our cruise my cortisol levels were .4 (that's point four – super low).  That's why I've been so draggy.
It would be dangerous – potentially fatal – to stop taking the Dexamethasone suddenly because it would leave my body without enough cortisol to function properly.  That's why the doctor has been gradually trying to ween me off of it, by giving me a little bit less each week, in hopes my body would start producing cortisol on its own again.  Unfortunately, this didn't happen in time for our cruise.
So My Oncologist Sent Me to an Endocrinologist.
As soon as we got back from vacation (two weeks ago now), my oncologist sent me to an endocrinologist at UVA to try to help me ween off the Dexamethasone.  The first thing he did was to switch me from Dexamethasone to Hydrocortisone, another steroid.  The results were dramatic – I went from not being able to make it through a day without a nap to not napping at all!  What an amazing thing – it felt almost like a miracle!  Hoo-ha!
Not to be indelicate, but after a week and a half on the hydrocortisone I had a horrible bout of diarrhea – three days straight.  I mean it was horrible.  And yet, I didn't feel bad – I actually felt better than I have in ages.  I have no idea whether this was my body's way of getting the Dexamethasone completely out of my system, or if I just had a little stomach virus – but the bottom line is I've lost a bit of weight and a good bit of my moon face, and I feel much, much better.  I'll take it!
The next step is for me to reduce my steroid a little this coming Wednesday.  Hopefully, it will go well and my body will start upping its cortisol production naturally and easily.  That's the plan, at least.  If all goes well with that, the endocrinologist wants me to reduce the dose again two weeks after that.  Then I'll go in for a blood test, and hopefully, we'll continue to be able to ween me of the stuff entirely.
It's a delicate process, though, and I'd really appreciate your good thoughts and prayers for my cortisol levels to rise as hoped.  Sometimes people's adrenal glands don't start producing cortisol in the normal amounts again after being on steroids and they develop what's known as "adrenal insufficiency."  Sometimes it takes years for a person to ween off the steroids.  I am really, really hoping this will not happen to me.  The steroids are hard, the side effects are harder, and I really want to have my own, real energy back again so I can start exercising more and regain my stamina.
I'll keep you posted!  Argh!