Two days ago, we drove from Little Rock, Arkansas, all the way through Oklahoma (or, as I've constantly been quoting Steve Martin from the movie Dirty Rotten Scoundrels, "Oklahoma! Oklahoma! Oklahoma!") to our overnight stop outside the Cactus Inn Motel in McLean, TX on iconic Route 66. (We do get our kicks, yes?)
The day started with a really great conversation with our host, C. The night before, he'd warned us about the Arkansas mosquitoes potentially carrying us away. Now, we were talking about everything from Maybelline makeup to water heater hoses. His Arkansas drawl reminded me of my West Virginia roots and soon we were exchanging details of our family histories – his growing up on a cotton farm as the grandson of a sharecropper and mine, coming from a long line of railroaders.
We'd had a little issue with the van the day before and C. offered to "look in his bucket" to see if he might have the parts that would fix it. His "bucket" turned out to be a vast machinist shop that easily measured 40 yards deep by 30 yards wide by 15 yards high – a thing of beauty!
C. did indeed find some parts in his bucket and gave them to us along with detailed instructions about the remaining things we needed to pick up at Lowe's to fix the van.  We bid C. a fond and very grateful farewell, picked up our other parts at Lowe's, and decided it was high time we hit the road to Texas, which was about seven hours away. Later, Marshall fixed the issue at one of our several gas station stops.
At about 11:00pm, we pulled into the spot we'd reserved at the Cactus Inn Motel in McLean, TX. Even in the dark, it was so cute I could hardly contain myself! This is what we woke up to: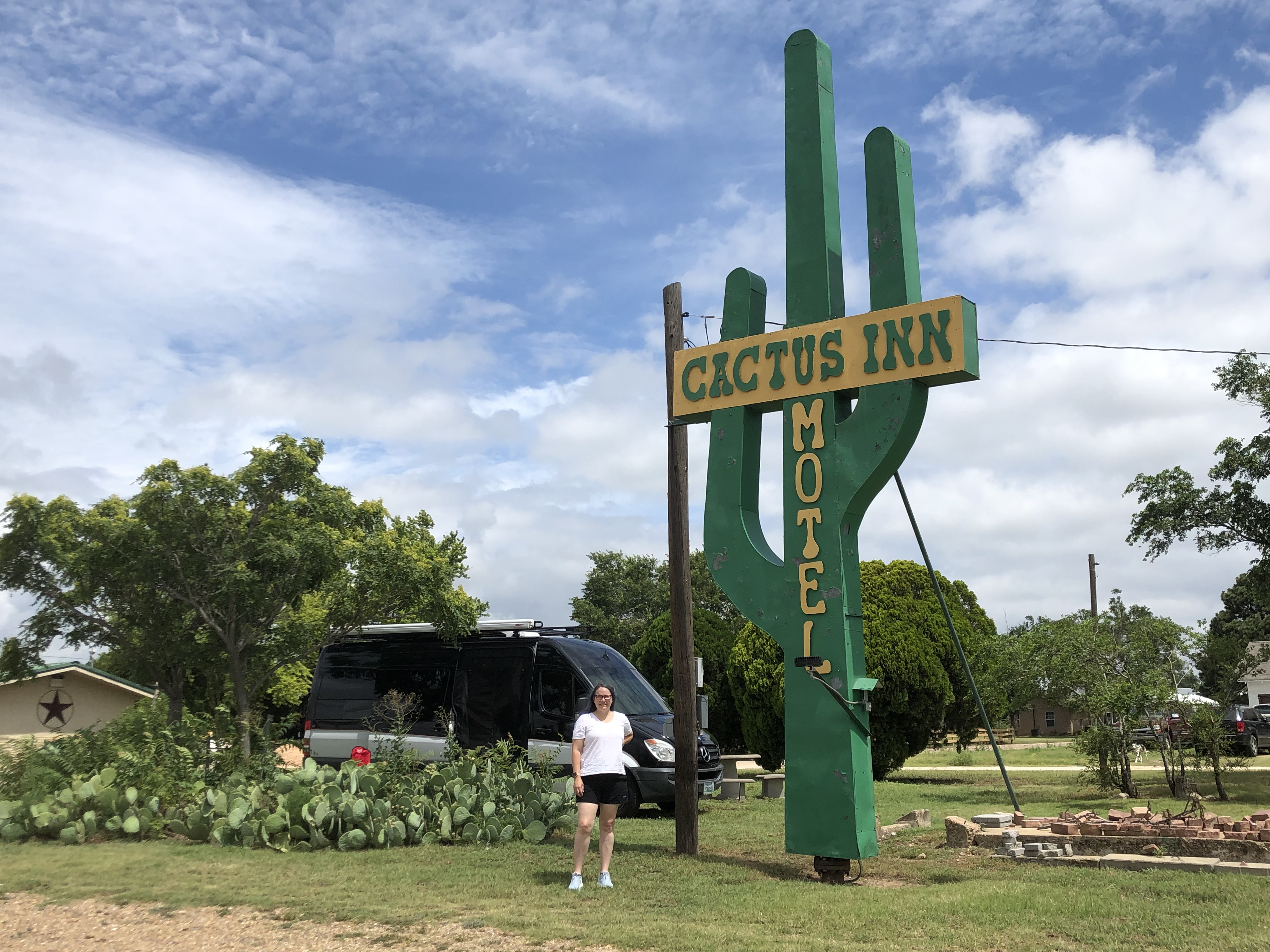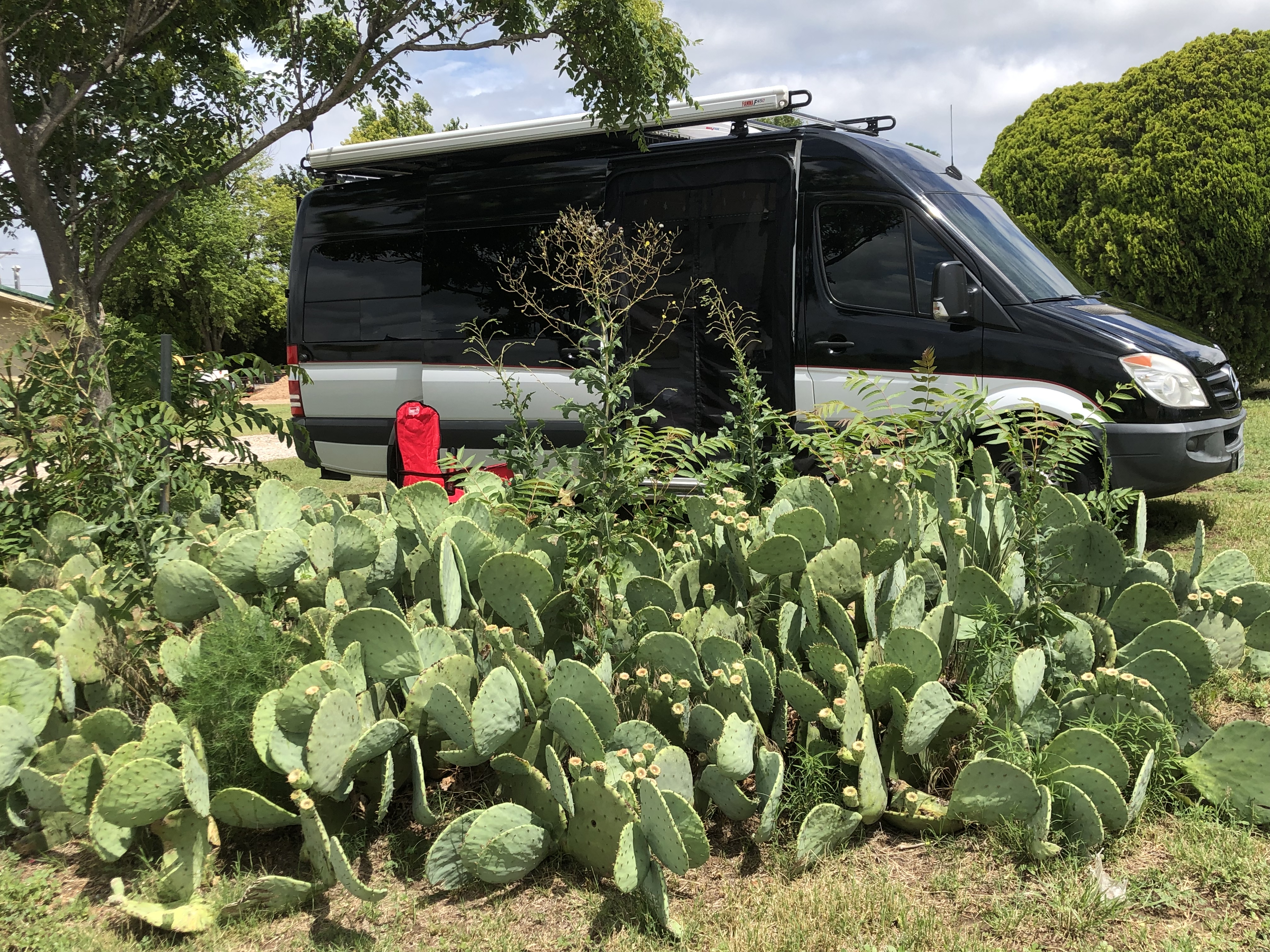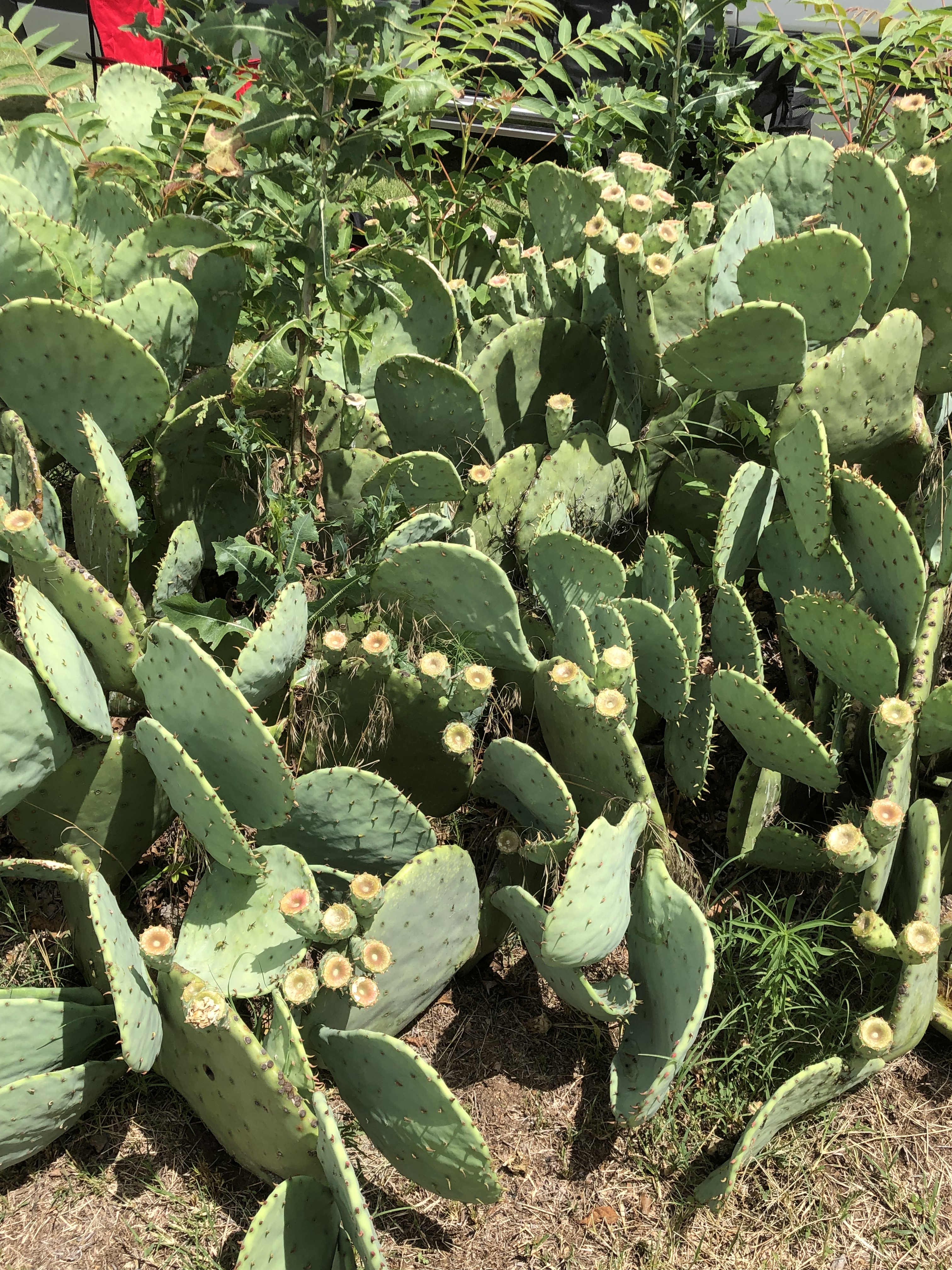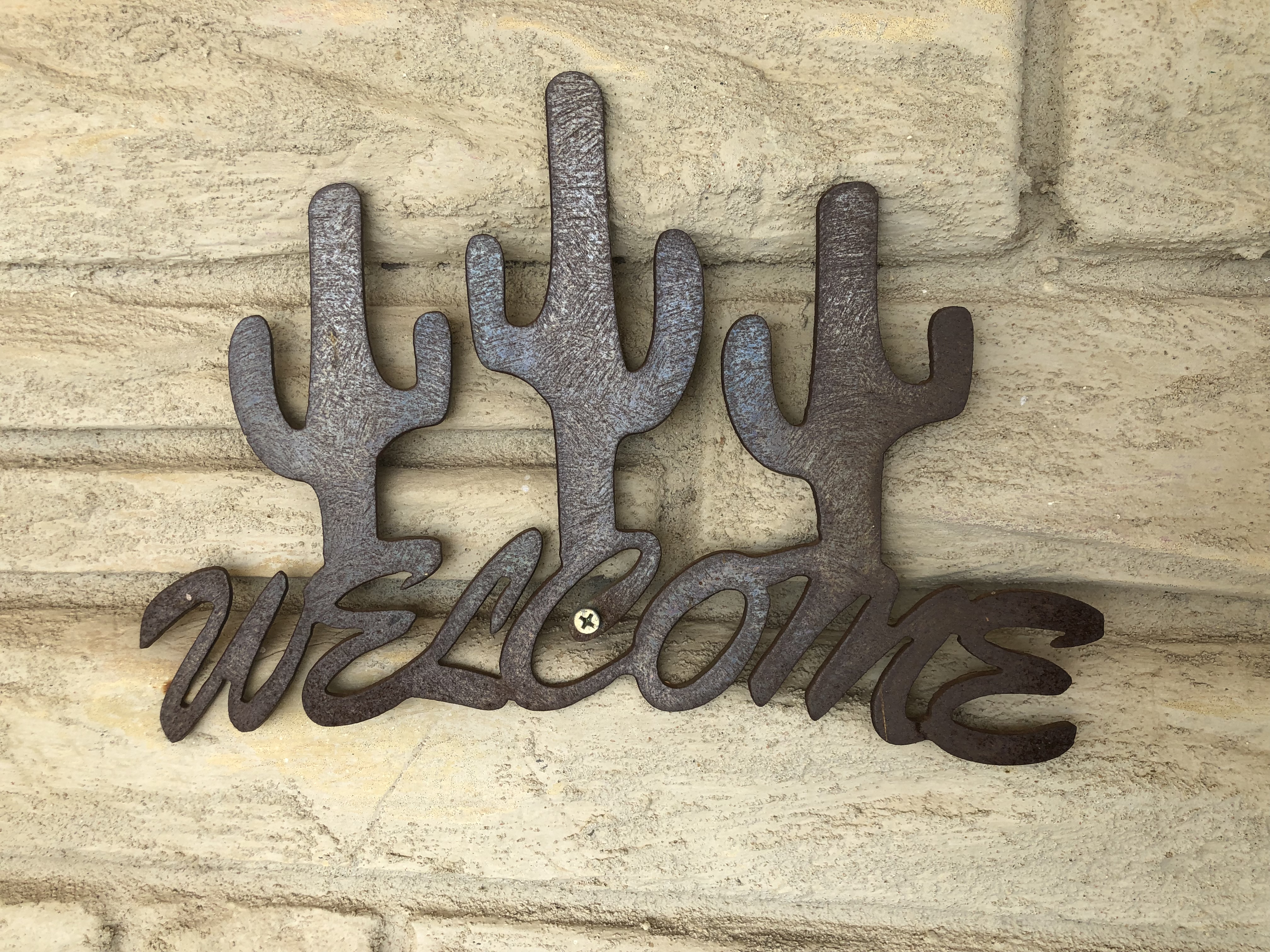 That is the famous Rt. 66 in the picture with the American flag. It was really awesome to stay right on Rt. 66, and, happily, we got a break from the heat to boot. Nothing like a cool night in the van!
Hannah got up early this morning to register for her fist semester of college classes. She is really happy with them – a couple of English classes, a Computer Science, a History, and a course on Cosmology. Should be a very fun time for her.
Marshall had to do some work this morning as well, so I was able take it nice and slow. I had a lovely conversation with the owner of the motel, a former Pre-K teacher who'd just bought the property last February and has been working on it since. Quite an adventure for her!
When we finally got going, we drove into McLean, which almost felt like a ghost town, so many shops were shut down. At the one open store, though, we found sweet tea, a headband for me, and directions to the barbed wire museum. You can guess where we headed next: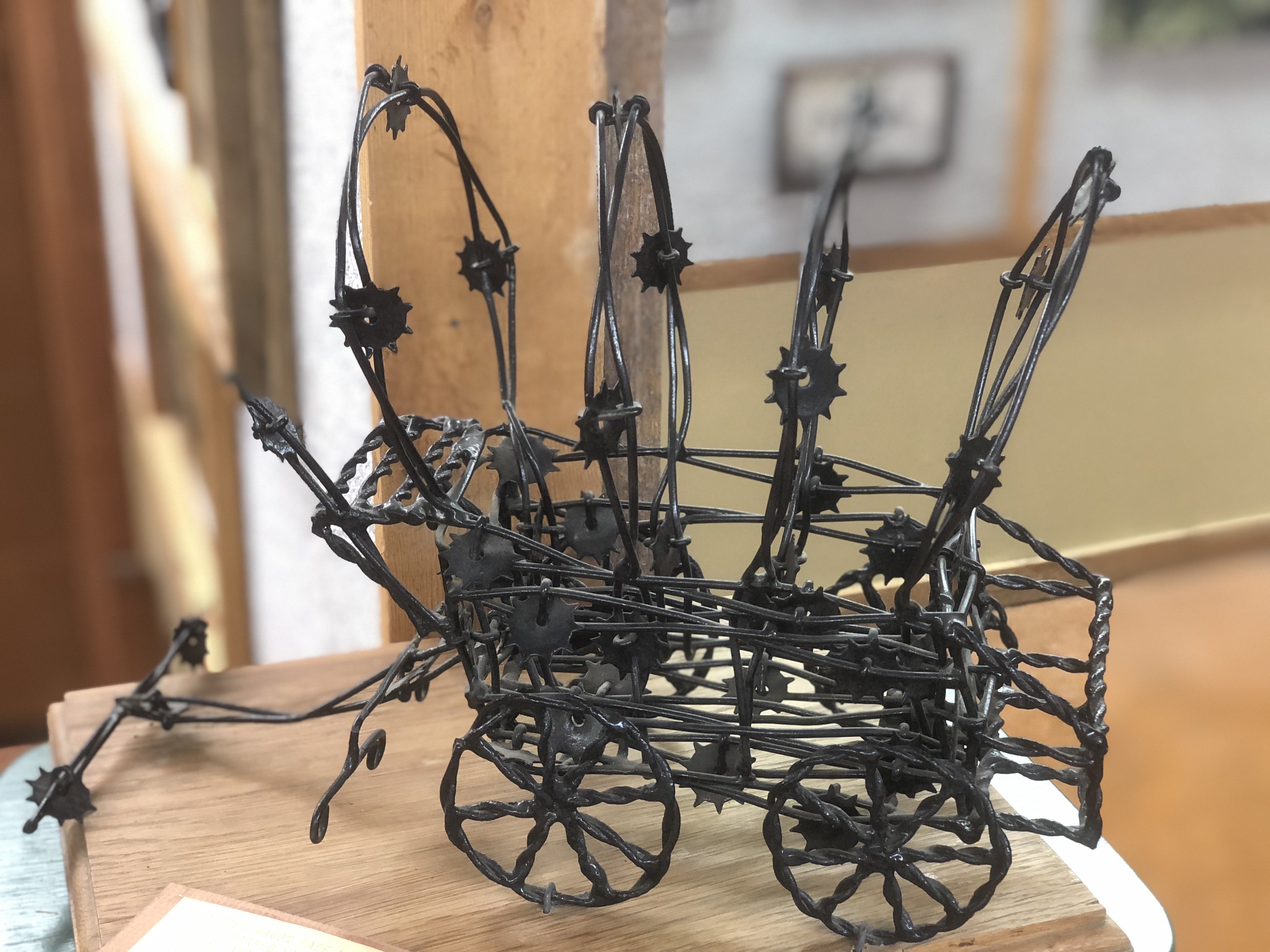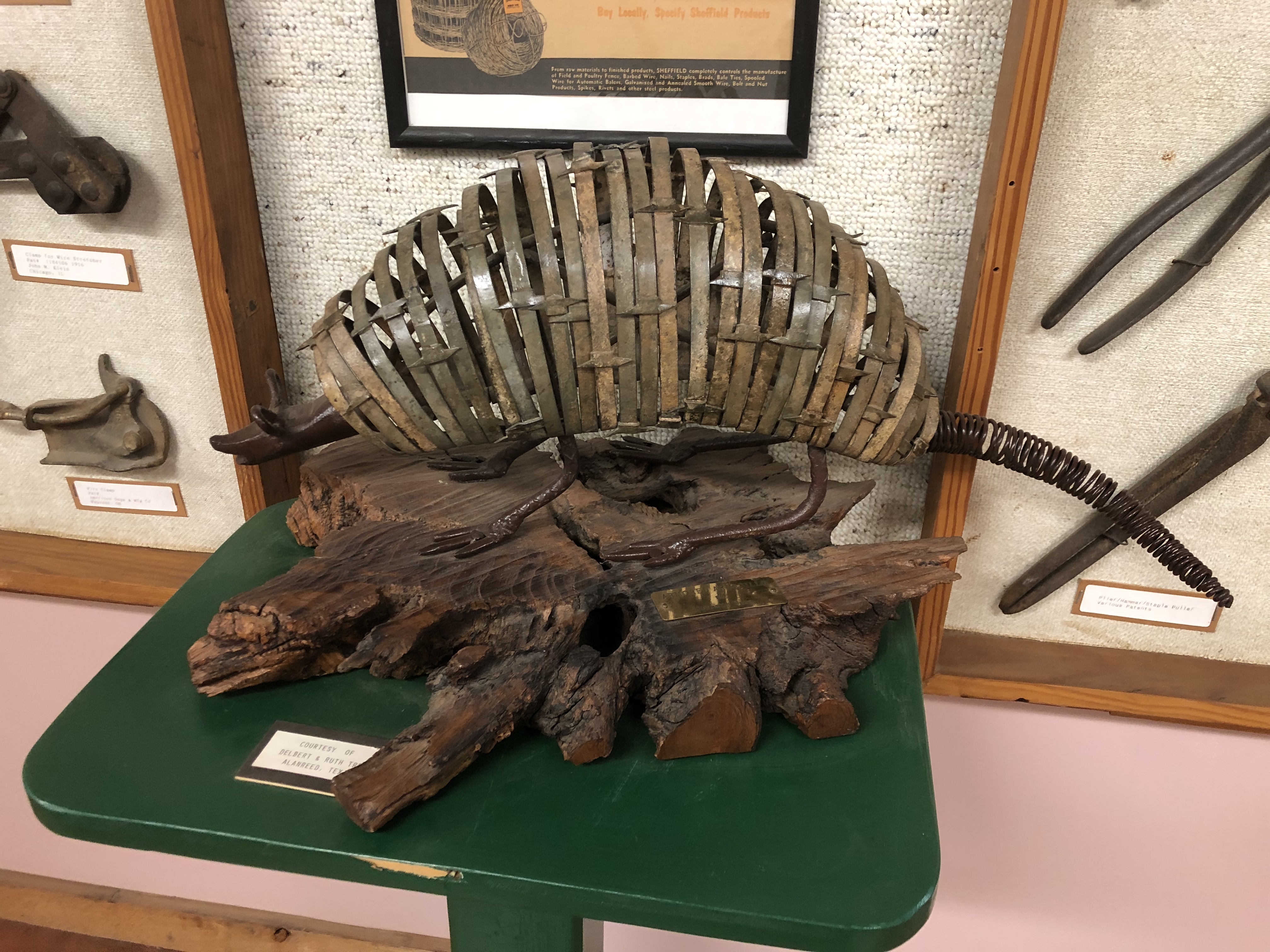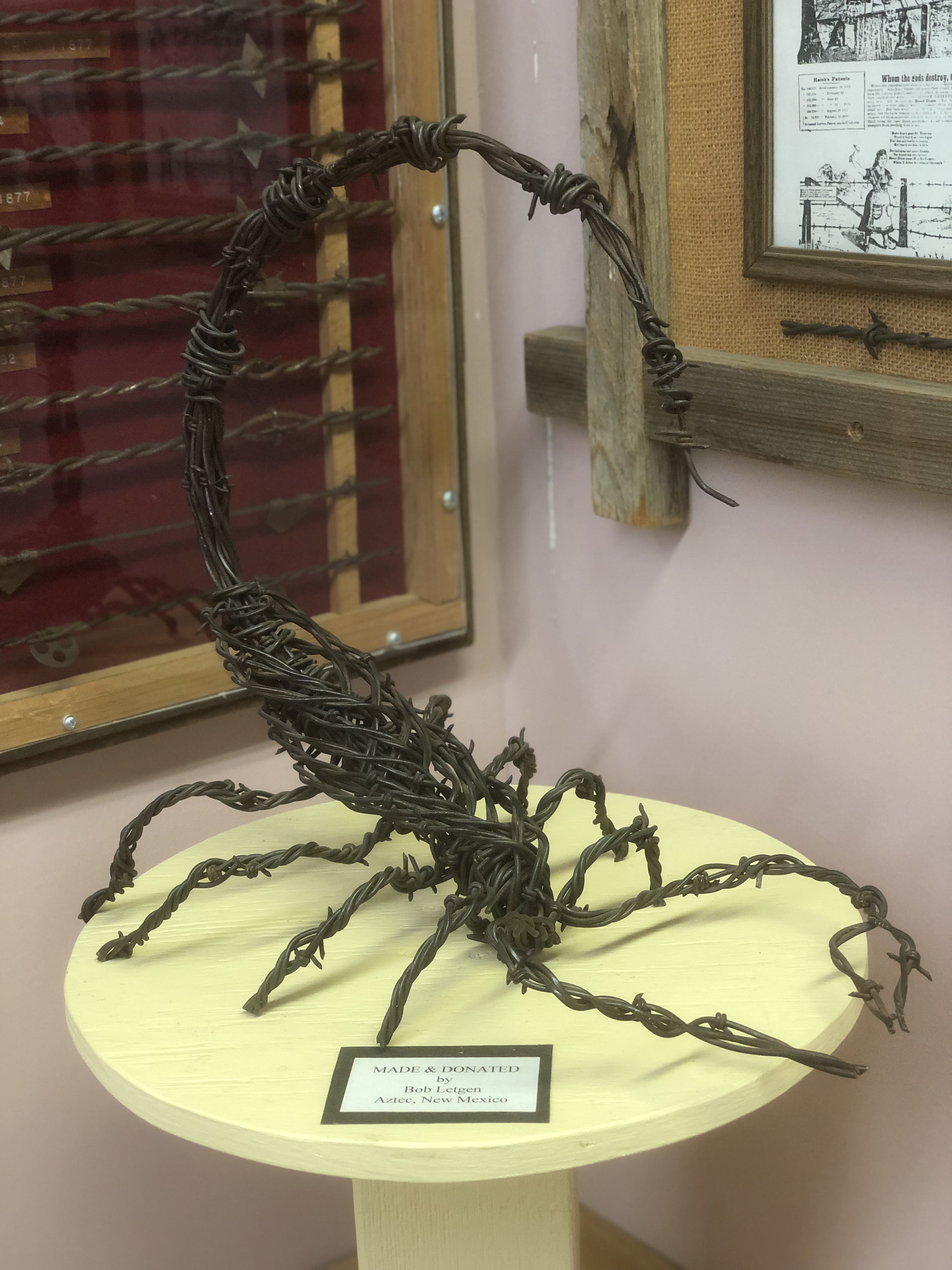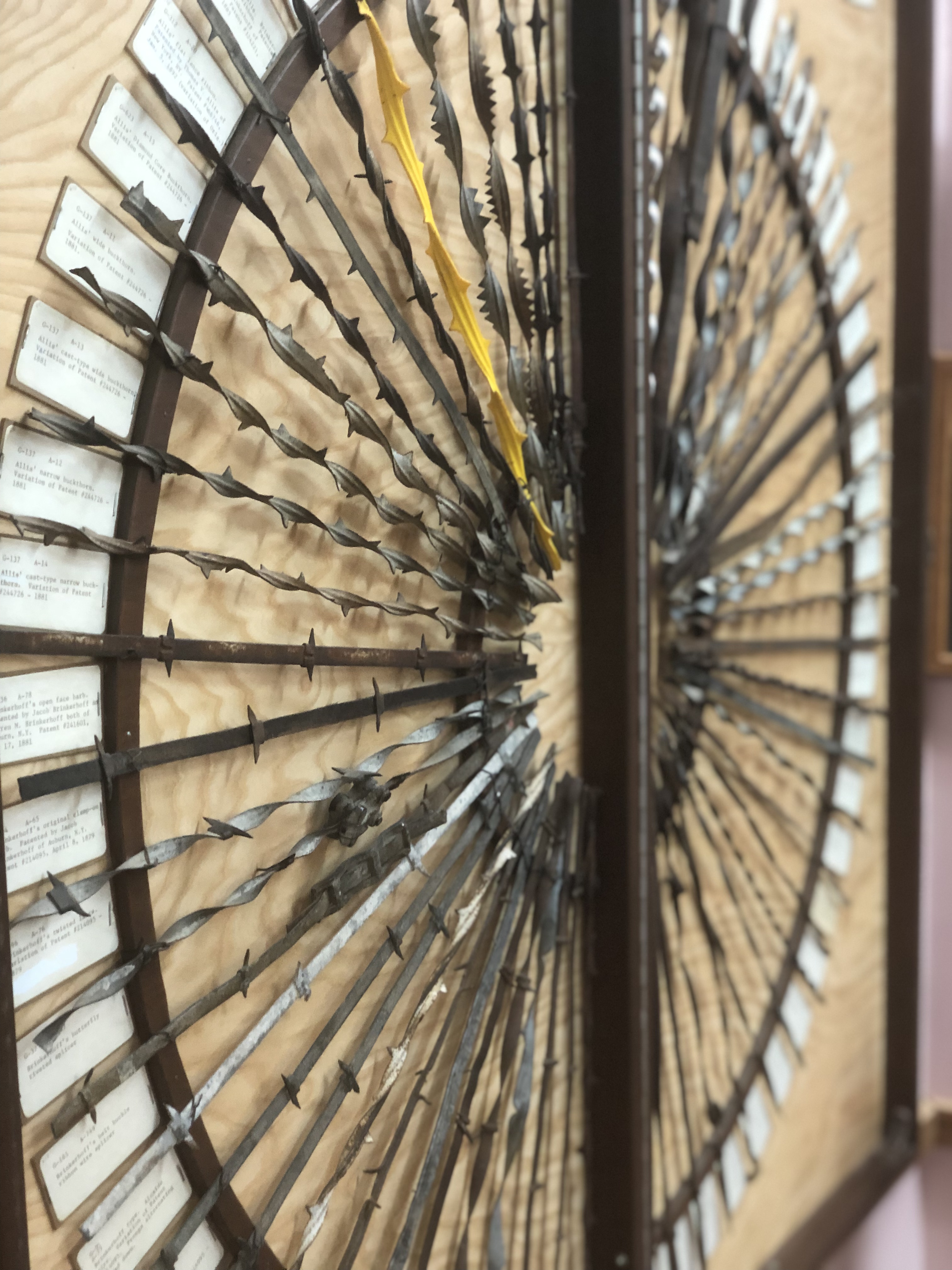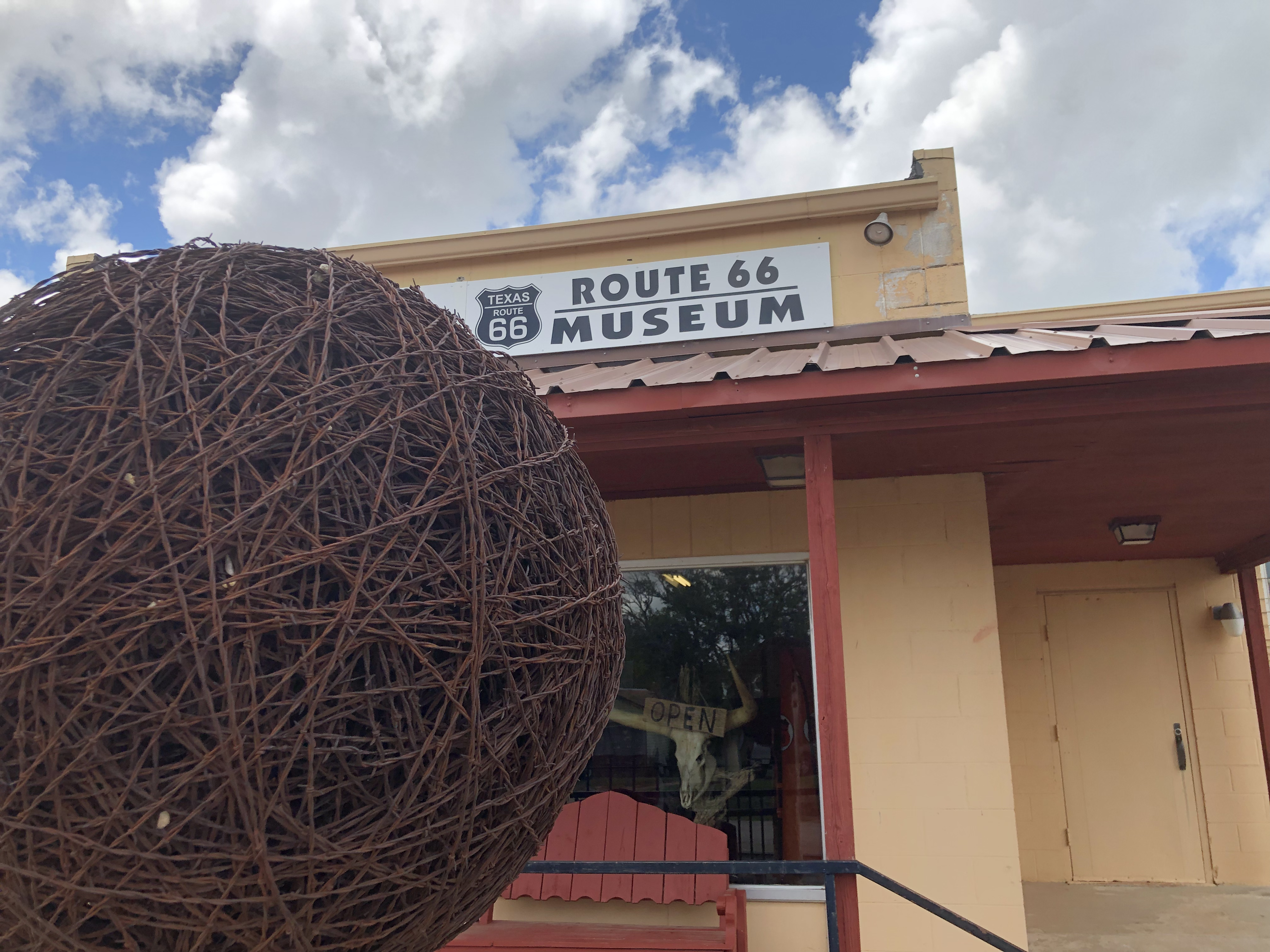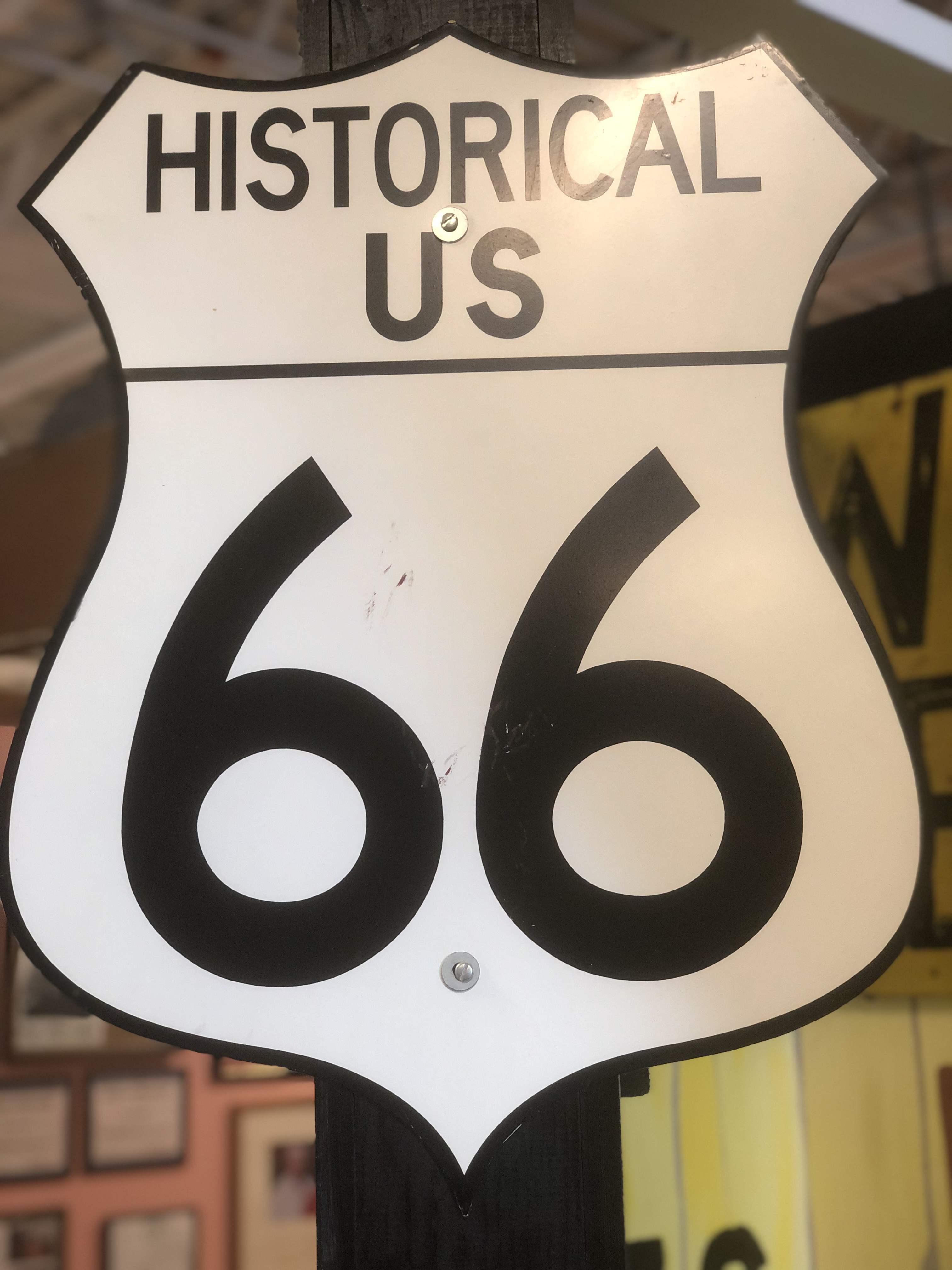 Did you know that there are barbed wire collectors? Or that barbed wire was used for telephone lines? This museum was super-well done and is emblematic of the types of things we've been hoping to see on our travels – a real find.
By the time we finished learning about barbed wire, we were hungry. As we were walking through town, we struck up a conversation with a woman who was dumping her trash, and she suggested we go to the Red River Steakhouse back over by the Cactus Inn Motel. So we did!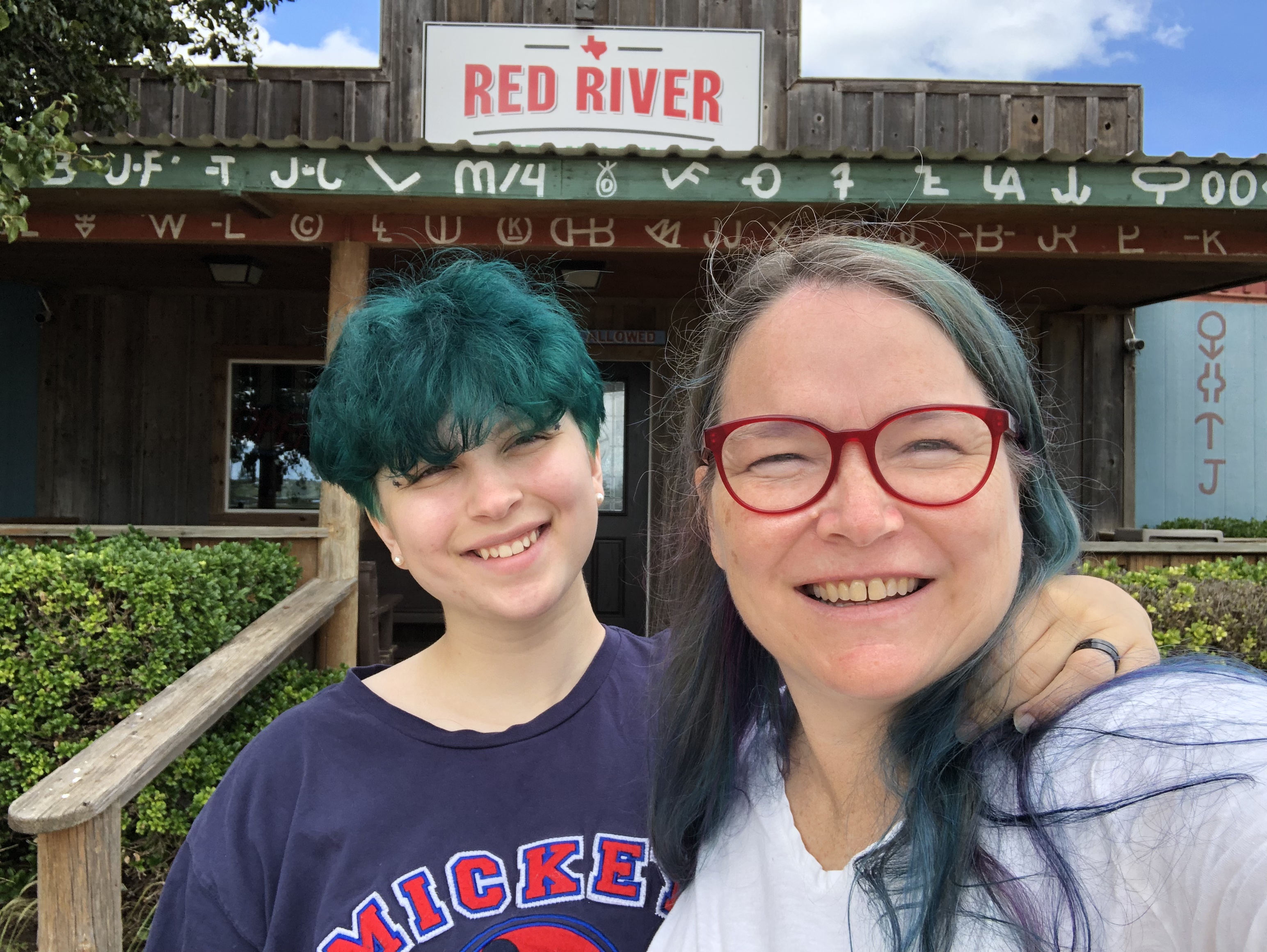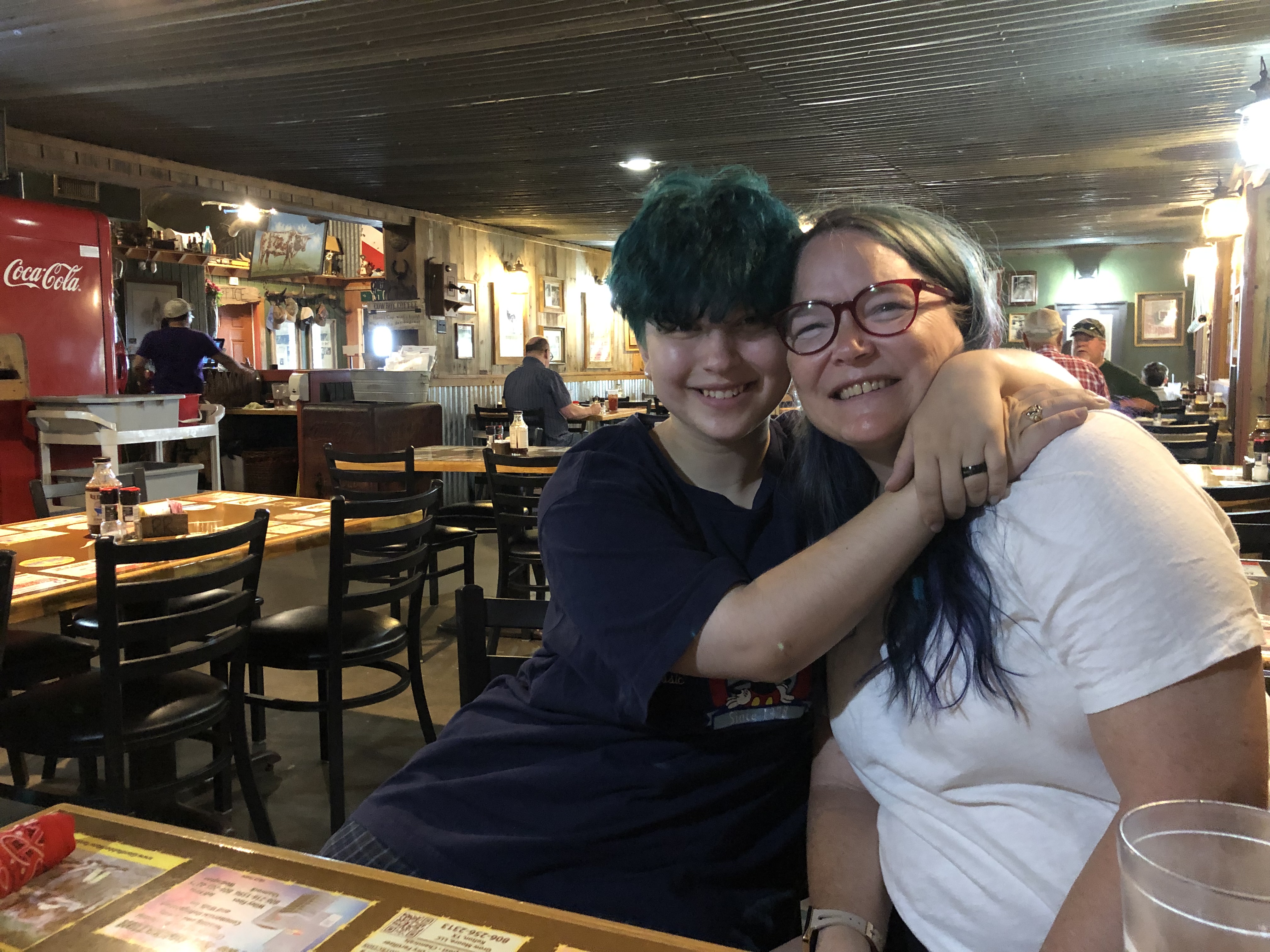 The food was terrific – big highlight was bacon-wrapped jalapeño poppers stuffed with cream cheese. We have vowed to try to replicate them back home.
We finally hit the road to Santa Fe at about 4:30, where we'll be staying the next two days. We should get in a little after 10pm on this rainy night.
I have to admit, I'm not feeling great tonight – my energy is way low. Two reasons, I think. First, I've only gotten four and five hours sleep the past two nights. I'm not sure why. And second, I've allowed myself some deviations from my usual diet today. I believe my problem is more the former than the latter, although after my few bites of baked potato and cowboy beans (uh, and the entire piece of free peach cobbler they gave me) at the Red River Steakhouse I could not hold my eyes open as Marshall was driving. Not a good feeling.
Please keep me in your prayers, especially for good sleep. I need it. Thanks.