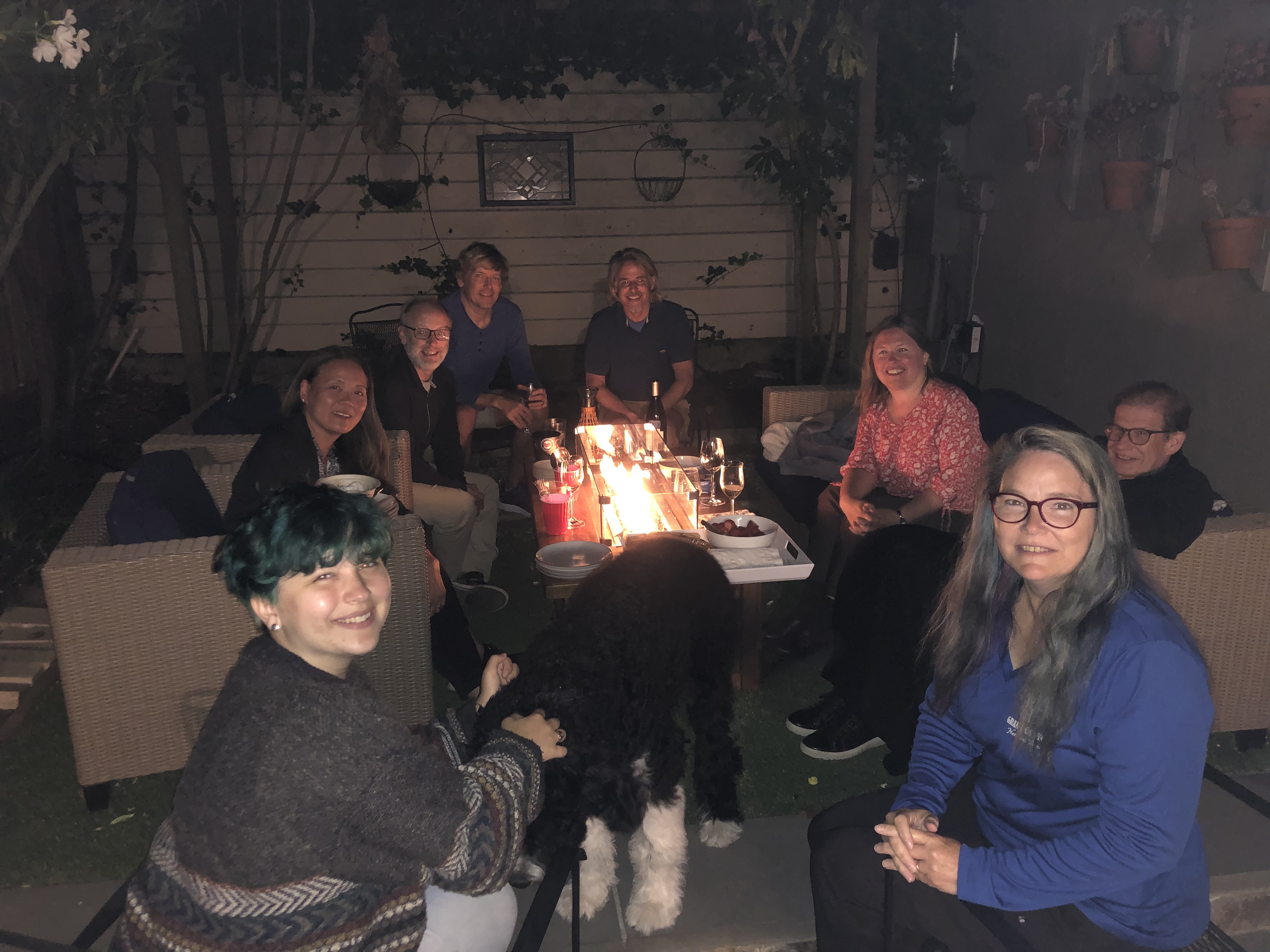 A few nights ago, we stayed with our college friend, Grace Han McMahon, and her wonderful husband, Ted, in their home just outside of San Francisco.  We reconnected with Grace a couple years ago in an incredibly small-world moment: Marshall ran into Grace when they both were walking down the hallway of Marshall's mother's retirement community in Newport News, Virginia. Turns out Grace's parents live in the same community! Fast forward, Grace very graciously invited us to stay with her family during our trip.
With very little lead time (because our schedule has been so last minute) Grace somehow put together a lovely dinner party with our other college friends, Ted and Scott, who also live in the SF area, and another college friend, Leah Piekarz and her husband, who happened to be visiting from Chicago.
After COVID-times, I can't begin to express my joy at attending a real, honest-to-goodness get-together with old friends! Our journey cross-country has witnessed a gradual loosening of the COVID tension that has enveloped my mind, heart, and body for the last 17 months. By the time we got to Grace's house, we'd gone from never being masked inside to cautiously unmasking in select socially-distanced restaurants to staying unmasked in hotels in 117* heat to feeling completely comfortable staying with Grace and her family in their lovely home.
This trip would've been important for me if I'd undergone no other metamorphosis than this loosening of the COVID chains around my heart, social skills, and life in general.
What a relief!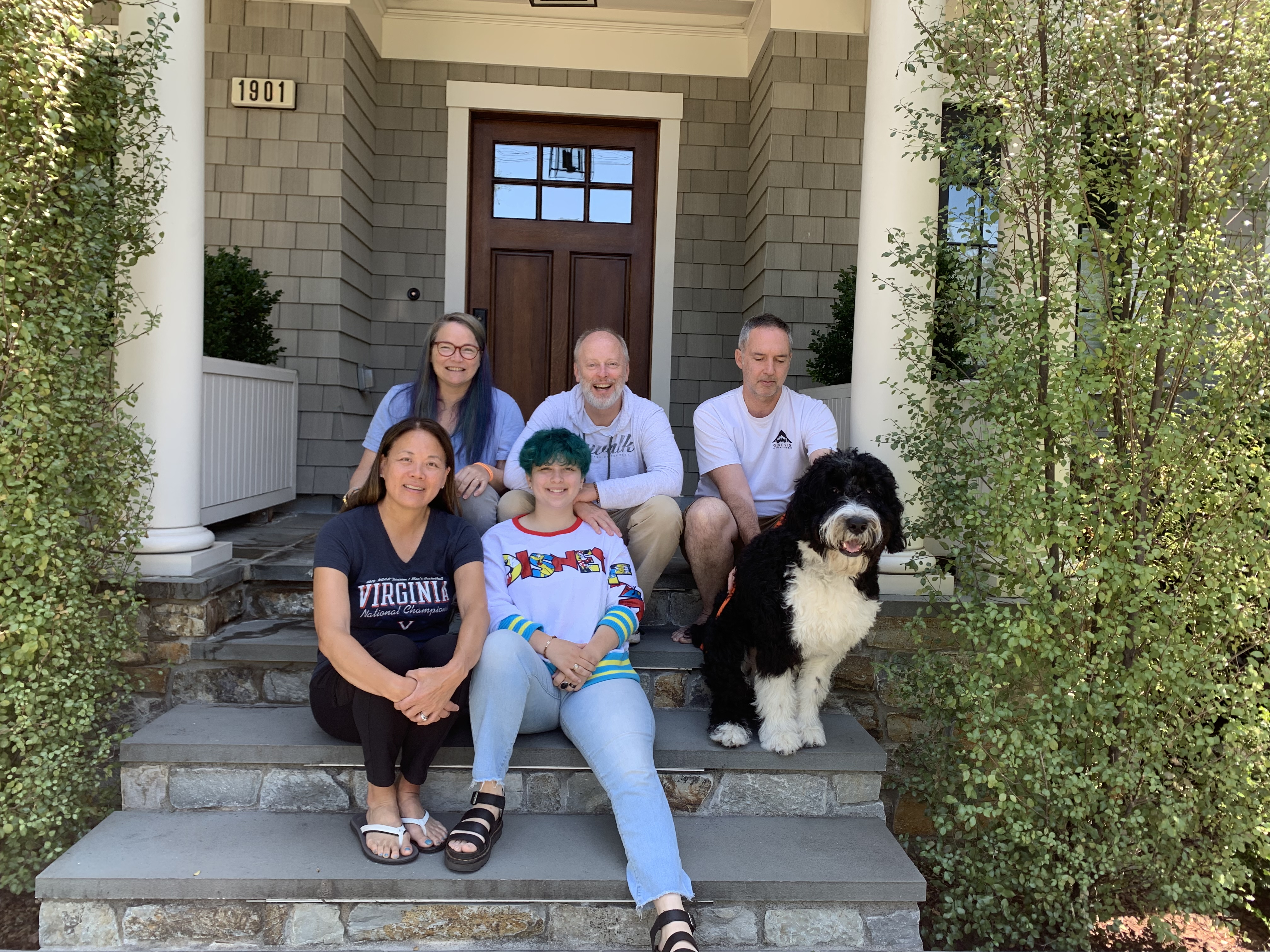 THE COVID/SURGERY SPECTER
The COVID specter has been pretty far reaching for me. In the fall of 2019, my oncologist told me I should start thinking about having a second brain surgery. I put it off, with his blessing, for a 30th anniversary trip for me and Marshall to Hawaii and a family trip to Puerto Vallarta for Christmas. Then COVID hit and I didn't want to risk having brain surgery without being vaccinated.
Having cancer during COVID was fairly scary – what would I do if I had to go to the ER for a complication and, more importantly, how could I face surgery alone if family wasn't allowed to be with me? But COVID was also a fantastic excuse for me to put off making the decision to have another surgery. It also allowed me to get Hannah graduated from high school before another big health-related upheaval in our family life. That has been a huge blessing.
But now, as I've entered the last week of our family trip, I am realizing that, as soon as I get home, I will need to make a decision about having another surgery. I know I should have it, and soon. But I really don't want to. Last time, surgery was an emergency situation so I really had no other option. That made the "choice" easy. But now, I am feeling generally okay most days, so it is hard to get onboard for someone cutting open my head. Now, I know exactly what I'm facing.
Before my last craniotomy, they pumped me so full of steroids that, not only was I a beast to be around – the steroids made me terribly grouchy – but I also wound up with secondary adrenal insufficiency and had zero energy for nine months following surgery. It was really tough, physically, and also very hard to get off the steroids. I had to deal with infection after infection that kept setting me back along the way. This time, I can warn the doctors that my adrenals don't play well with steroids and they can give me fewer of them. But I'm still afraid that secondary adrenal insufficiency will an obstacle I"ll have to face once again.
Plus, the surgery itself scares me.  I am five-and-a-half years older and I've gained a lot of weight since the last go round. Some people believe cancer is a metabolic disease, and I am inclined to agree. My ketogenic diet usually gives me good energy, but I have to eat a lot of fat and eat often enough so I don't crash and burn throughout the day. And my energy output doesn't allow me to exercise to the extent I'd need to in order to lose weight.  So I'm guessing this time around, I'll have a higher risk of complications with my surgery. Boo.
I suppose it is the physical act of turning east again, over the Golden Gate Bridge and officially into our last leg home, that turns my mind to all these thoughts of what I'll be facing when I get home.
Fortunately, though, my journey these last five years has taught me a lot about living in the moment, so that is the plan for this last week of our trip: to be exactly where I am.